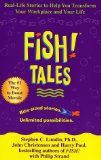 Fish! Tales: Real-Life Stories to Help You Transform Your Workplace and Your Life

by Stephen C. Lundin, Harry Paul, John Christensen, Philip Strand
If you're reading this book review, you have at least heard about the book from which FISH! Tales evolved. It's the runaway national bestseller FISH! … the wildly popular little book inspired by observing workers at Seattle's Pike Place Fish Market. In FISH!, we learned the beauty and power of a very simplistic philosophy:
Play
Make Their Day
Be There
Choose Your Attitude.
In fact, for some it was too simplistic. Many others, however, actually took the simple concepts and made them work! It doesn't always take an expensive, complex initiative. New Yorkers, with the support of their fellow Americans from coast to coast, indeed proved the fact that we didn't need complex initiatives for energizing people to come together for a common purpose after the 9-11 catastrophe. Total strangers came together immediately to achieve what most would have earlier deemed impossible. It took an instantaneous connection and a vivid reminder of what life is really all about. FISH! Tales will remind readers of what is truly real in life.
In this oFISHial sequel, the authors show how these simple lessons were put into practice at businesses both big (a major hospital and long-distance carrier) and small (a local car dealership and roofing company). Readers will learn how real-life businesses and individuals energized their workplaces—and their lives—by implementing the lessons from FISH!. This book showcases four examples of success, from a well-regarded hospital in Missouri to a Rochester, New York, car dealership. The similarities? Repetitive and boring work and dismal work environments, all in industries reputed to offer less than desirable careers. The authors document with care the four befores and afters, intersperse brief Reader's Digest-type anecdotes, and then outline 12 weeks of activities to incorporate the FISH! philosophy into your own life or business.
The thrust of this book reminded me much of the Southwest Airlines philosophy for success—"have fun at work but never lose sight of the vision and purpose of your business." While Southwest has made it seem very easy to accomplish, few have succeeded in duplicating this rare balance. FISH! Tales may just provide you with the blueprint and examples to do just that.
(This book review was originally published in 2002 as one of the Top 10 Books – Edition 11.)
Harry K. Jones is a motivational speaker and consultant for AchieveMax®, Inc., a company of professional speakers who provide custom-designed seminars, keynote presentations, and consulting services. Harry's top requested topics include change management, customer service, creativity, employee retention, goal setting, leadership, stress management, teamwork, and time management. For more information on Harry's presentations, please call 800-886-2629 or fill out our contact form.