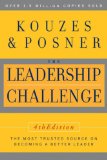 The Leadership Challenge

by James M. Kouzes and Barry Z. Posner
How's this for a long-range success formula? In 1987, two of the country's premier leadership experts, James M. Kouzes and Barry Z. Posner, joined forces to produce what would become perhaps the most comprehensive field guide ever written for leaders. Later, in the 90s, the authors came together once again to update their original masterpiece by addressing issues they uncovered in research on ordinary people achieving "individual leadership standards of excellence." Now, in the spirit of continuous improvement, they offer the third edition of their inspirational and practical handbook.
In this third edition of The Leadership Challenge, more than 50% of the content is new material added to a resoundingly inspiring message. This new edition has been substantially updated to reflect the challenges of shrinking work forces, rising cynicism and expanded telecommunications. It's being heralded as a "personal coach in a book." Drawing on interviews and a questionnaire survey of more than 3,000 leaders, in addition to an expanded research base of 60,000 leaders, the authors capture the continuing interest in leadership as a critical aspect of human organizations.
In the third time around, Kouzes and Posner emphasize that the fundamentals of leadership have changed very little, if any, since the 1980s. In fact, the basics haven't changed for centuries. The old axiom about "nothing's new" is indeed very true. Leadership is not a fad. While the content of leadership has not changed, the context has—and in some cases, changed dramatically. Obviously, current leaders must adapt if they hope to succeed.
The authors identify five fundamental practices of exemplary leadership necessary for success in our rapidly changing business environment:
Challenge the status quo;
Inspire a shared vision;
Enable others to act;
Model the way forward by setting an example;
Tap individuals' inner drives by linking rewards and performance.
"What we have discovered, and rediscovered, is that leadership is not the private reserve of a few charismatic men and women," write Kouzes, chairman emeritus of the Tom Peters Company, and Posner, dean of the Leavey School of Business at Santa Clara University. "People make extraordinary things happen by liberating the leader within everyone." After explaining their concept and methodology, the authors detail the five essentials noted above in a pair of chapters apiece that bring clarity to their theories with case studies and recommended actions.
Think of The Leadership Challenge as a field guide to take along on your leadership journey. Kouzes and Posner write, "We've designed it to describe what leaders do, explain the fundamental principles that support these leadership practices, provide actual case examples of real people who demonstrate each practice, and offer specific recommendations on what you can do to make these practices your own and to continue your development as a leader." An appendix includes the authors' Leadership Practices Inventory, a tool for assessing leadership behavior.
The Leadership Challenge is ultimately a quest of self-discovery that helps its readers better know themselves and improve their leadership skills in action.
(This book review was originally published in 2002 as one of the Top 10 Books – Edition 11.)
Harry K. Jones is a motivational speaker and consultant for AchieveMax®, Inc., a company of professional speakers who provide custom-designed seminars, keynote presentations, and consulting services. Harry's top requested topics include change management, customer service, creativity, employee retention, goal setting, leadership, stress management, teamwork, and time management. For more information on Harry's presentations, please call 800-886-2629 or fill out our contact form.