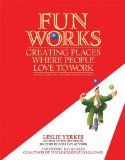 Fun Works: Creating Places Where People Love to Work

by Leslie Yerkes
Books on this subject have been around for decades. I have many of them on my own bookshelves and have seldom referred to any of them in the spirit of research, study or bench marking. I'm afraid you'd hear similar remarks from the average CEO, manager, leader, supervisor, HR specialist, etc. However, the business world and its challenges are changing, and I think it's time we revisit this subject of having fun at work. What better time to do so as experts all agree that we are rapidly approaching an era of difficulty in attracting and retaining talent at a time when potential employees have so many choices.
Another interesting trend has emerged recently as more and more organizations are seriously pursuing the status of "Employer of Choice." I can attest to the fact that this pursuit is not grounded in a sudden concern for the welfare of employees at every level. I see growing evidence that wise leaders and organizations everywhere are realizing the importance of creating a culture or environment that encourages employees to enjoy their daily routines, look forward to coming to work, manifest more creativity, and, therefore, enhance productivity. The bottom line for the organization, of course, is progress, growth, profitability, and longevity. If it's that easy, why doesn't every business simply create this unique, obviously productive culture? The operative word here is "unique." By the way, it's also not that easy. However, one of the key ingredients in creating and sustaining this desirable environment is undeniably simplistic. Allow your people, at every level, to have fun at work! What a radical concept—that fun and work are not mutually exclusive!
I mentioned earlier that there have been many books published on this subject. However, the majority of them contain excessive "fluff" and are little more than a collection of stories that illustrate random examples where others have brought fun into the workplace. I suggest you'll find this book much different.
Let's begin with the author. Leslie Yerkes brings much to the table as a savvy management consultant. She co-authored the best-selling 301 Ways to Have Fun at Work. She then toured the country conversing with people and giving speeches on her book. She's researched companies who are known for their successful integration of fun and work. She then visited each one of them and talked face-to-face with as many of the founders and current staff as was possible. She took photos and collected visual memories that led to the stories in this book. She not only knows what she's talking about—she believes it wholeheartedly!
In this guidebook, Leslie shares 11 Principles of Fun/Work Fusion that she discovered in her research studies:
Give Permission to Perform
Challenge Your Bias
Capitalize on the Spontaneous
Trust the Process
Value a Diversity of Fun Styles
Expand the Boundaries
Be Authentic
Be Choiceful
Hire Good People and Get out of Their Way
Embrace Expansive Thinking and Risk Taking
Celebrate
She provides the "Why" as well as the "How" and not just the "What" of each of these principles.
After an introductory overview, Leslie devotes a chapter to each principle. While the principles are important, of even greater importance is the case study approach validating how a particular company—a different company for each principle—applies the principle. These companies include Pike Place Fish Market, Southwest Airlines, Harvard University Dining Services, Employease, and six other organizations that share their insights with us. At the end of each chapter, a "heart key" shares thoughts designed to increase the reader's ability to apply the principle.
An additional feature, "Another Voice," closes each chapter with a comment from an author, manager or business owner to further illuminate the principle. Leslie also provides other resources which include comments from more than 30 authors, speakers, and businesspeople as well as an inventory you can use to benchmark how much fun is present in your organization's work environment.
Leaders and managers of all organizations should include this book in their corporate library. It will certainly be an invaluable resource.
(This book review was originally published in 2002 as one of the Top 10 Books – Edition 11.)
Harry K. Jones is a motivational speaker and consultant for AchieveMax®, Inc., a company of professional speakers who provide custom-designed seminars, keynote presentations, and consulting services. Harry's top requested topics include change management, customer service, creativity, employee retention, goal setting, leadership, stress management, teamwork, and time management. For more information on Harry's presentations, please call 800-886-2629 or fill out our contact form.