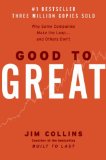 Good to Great: Why Some Companies Make the Leap … and Others Don't

by Jim Collins
If you read, enjoyed, and benefited from Built to Last, and you should have, you'll be anxious to get your hands on Jim Collins' latest contribution to managers and CEOs everywhere. In that previous classic, the result of a six-year research project, the author revealed Successful Habits of Visionary Companies.
In his latest effort, Collins sets out to answer the question, "Can a good company become a great company and if so, how?" He and his 21-person research team began their quest by sorting through a list of 1,435 companies, looking for those that made substantial improvements in their performance over time. They read and coded 6,000 articles, generated more than 2,000 pages of interview transcripts and created 384 megabytes of computer data in a five-year project. The author's ability to distill the findings into an interesting and easy-to-understand guide is a testament to his writing skills. After establishing a definition of a good-to-great transition that involves a 10-year so-so period followed by 15 years of increased profits, Collins' crew combed through every company that has made the Fortune 500 (approximately 1,400) and found 11 that met their criteria. In taking a closer look at that 11—including Fannie Mae, Gillette, and Wells Fargo—they discovered common traits that challenged many of the conventional notions of corporate success.
Making the transition from good to great doesn't require a high-profile CEO, the latest technology, innovative change management, or even a fine-tuned business strategy. At the heart of those rare and truly great companies was a corporate culture that rigorously found and promoted disciplined people to think and act in a disciplined manner. Although you may not have expected findings like this, I think you're going to read and hear much more along these same lines in the very near future. It was a pleasure to discover that many of Collins' perspectives on running a business are amazingly simple and commonsense. Peppered with dozens of stories and examples from the great and not so great, the book offers a well-reasoned road map to excellence that any organization would do well to consider. Like Built to Last, Good to Great is one of those books that managers and CEOs will be reading and rereading for years to come.
(This book review was originally published in 2001 as one of the Top 10 Books – Edition 9.)
Harry K. Jones is a motivational speaker and consultant for AchieveMax®, Inc., a company of professional speakers who provide custom-designed seminars, keynote presentations, and consulting services. Harry's top requested topics include change management, customer service, creativity, employee retention, goal setting, leadership, stress management, teamwork, and time management. For more information on Harry's presentations, please call 800-886-2629 or fill out our contact form.