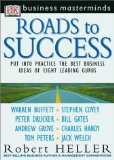 Business Masterminds: Roads to Success – Put Into Practice the Best Business Ideas of Eight Leading Gurus

by Robert Heller
Here we have a book that may very well pose a few problems for you. First of all, it's expensive as business books go—$40 suggested retail. Here's still another problem: It's extremely difficult to put this book down once you get into it. Why is that a problem? It's contains 864 pages! This masterpiece will rival any "coffee table" book you may now possess as it offers a wealth of information graphically enhanced by hundreds of beautiful multi-colored photographs, tables, charts, diagrams, and graphs.
In this enlightening volume, best-selling business expert Robert Heller presents the ideas and innovations of eight of the world's most successful business leaders. Charting each guru's rise to the top, Heller analyzes the factors that contributed to each one's phenomenal success. Heller then shows you how to make their strategies work for your own success.
The eight leading business and management gurus chosen for this masterpiece are:
Bill Gates, multibillionaire co-founder of Microsoft and master of seizing opportunities and staying ahead of the game.
Steven Covey, author of The Seven Habits of Highly-Effective People and celebrated teacher of practical management skills.
Jack Welch, CEO of General Electric for 30 years and an advocate of motivating the workforce and discarding bureaucracy.
Tom Peters, author of In Search of Excellence and leading advocate of management by "perpetual revolution."
Peter Drucker, the first to define the art of effective management and a ground-breaking pioneer of management theories.
Warren Buffett, globally acclaimed financial investor and pioneer of managing for shareholder value.
Andrew Grove, Silicon Valley innovator who piloted the rise of Intel and defined the model for high-tech management.
Charles Handy, renowned social philosopher and prophet of emerging business trends, such as portfolio careers.
Comprehend the strategies Bill Gates uses to focus on his goals, forge key collaborations, hire the best brains, make solid decisions, and dominate the market place.
Understand why Stephen Covey advocates widening circles of influence, developing "abundance mentalities," exercising self-leadership, and optimizing personal capabilities.
Discover why Jack Welch will enter the history books as America's greatest manager of all time.
Realize why Tom Peters' management strategies enable businesses to exploit "perpetual revolution" and live with chaos in a commercially volatile world.
Discover the ideas of Peter Drucker on managing by objectives, achieving innovation, and focusing on customers.
Learn how Warren Buffett identifies strong brands, minimizes risk, recognizes ideal business acquisitions, and values hard work and honesty.
Grasp the methods Andrew Grove uses to manage innovation, drive performance, and master revolutionary change.
Appreciate how Charles Handy sees businesses as communities, challenges dogmas, makes groups work, and lives by the "doughnut principle."
This "Business Bible" should adorn the shelves of every corporate library in the country. It will educate and inform you and yours for years to come. You do the math, all of these leaders are the top of their segments in business and innovation, and Robert Heller has captured what business students, managers, and CEOs need. Each subject has developed model approaches to how business is done and will be done in the future. A great read and well worth your investment.
(This book review was originally published in 2001 as one of the Top 10 Books – Edition 9.)
Harry K. Jones is a motivational speaker and consultant for AchieveMax®, Inc., a company of professional speakers who provide custom-designed seminars, keynote presentations, and consulting services. Harry's top requested topics include change management, customer service, creativity, employee retention, goal setting, leadership, stress management, teamwork, and time management. For more information on Harry's presentations, please call 800-886-2629 or fill out our contact form.