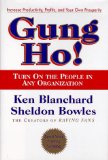 Gung Ho! Turn On the People in Any Organization

by Ken Blanchard and Sheldon Bowles
The co-authors of the business bestseller Raving Fans are back with Gung Ho! Here is an invaluable management tool that outlines foolproof ways to increase productivity by fostering excellent morale in the workplace. It's a must-read for everyone who wants to stay on top in today's ultra-competitive business world.
Raving Fans taught managers how to turn customers into full-fledged fans. Now, Gung Ho! brings the same magic to employees. Through the inspirational story of fictional business leaders, the authors reveal the secret of Gung Ho!—a revolutionary technique to boost enthusiasm and performance and usher in astonishing results. The three principles of Gung Ho! are:
The Spirit of the Squirrel
The Way of the Beaver
The Gift of the Goose
These three cornerstones are surprisingly simple and yet amazingly powerful. Whether your organization consists of one or is listed in the Fortune 500, this book ensures Gung Ho employees committed to success. It also includes a clear game plan with a step-by-step outline for instituting these groundbreaking ideas.
(This book review was originally published in 1999 as one of the Top 10 Books – Edition 2.)
Harry K. Jones is a motivational speaker and consultant for AchieveMax®, Inc., a company of professional speakers who provide custom-designed seminars, keynote presentations, and consulting services. Harry's top requested topics include change management, customer service, creativity, employee retention, goal setting, leadership, stress management, teamwork, and time management. For more information on Harry's presentations, please call 800-886-2629 or fill out our contact form.