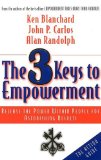 The 3 Keys to Empowerment: Release the Power Within People for Astonishing Results

by Ken Blanchard, John P. Carlos, and Alan Randolph
Written in an easily accessible Q & A format, this book closely examines and expands on the three keys to empowerment originally presented in Empowerment Takes More than a Minute—sharing information with everyone, creating autonomy through boundaries, and replacing the hierarchy with teams.
It clearly outlines the promises and challenges of each stage of the journey, providing managers with thought-provoking questions, clear advice, effective activities, and action tools that will help them create a culture of empowerment. Wherever they are in the journey, managers will find a clear roadmap in this user-friendly action guide.
(This book review was originally published in 1999 as one of the Top 10 Books – Edition 2.)
Harry K. Jones is a motivational speaker and consultant for AchieveMax®, Inc., a company of professional speakers who provide custom-designed seminars, keynote presentations, and consulting services. Harry's top requested topics include change management, customer service, creativity, employee retention, goal setting, leadership, stress management, teamwork, and time management. For more information on Harry's presentations, please call 800-886-2629 or fill out our contact form.