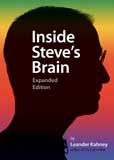 Inside Steve's Brain
by Leander Kahney
I like the thought of looking into someone else's brain … especially someone with the track record of Steve Jobs. The title intrigued me immediately. However, I think there are a few guidelines I should set for myself before I undertake such an enticing journey.
I may very well not understand all that I find there.
I may not agree with all that is revealed.
I should be willing to learn from the experiences of others.
I should search for revelations from which I can benefit.
Under those guidelines, I should benefit greatly from this book by Leander Kahney.
I guess I was also influenced by a frightening statistic I recently read in USA Today:
Apple Inc. now has more cash on hand than the entire United States federal government. As of Wednesday, July 27, the balance sheet for the US Treasury dipped down to $73.768 billion. That compares to the $76.156 billion Apple has in its deep coffers—a difference of $2.388 billion.
Maybe someone should suggest to Steve Jobs that he should run for President.
Paradoxically, Steve Jobs continues to be one of the best-known and yet least understood CEOs in recent business history. The author sums it up best in his introduction: "Jobs is a control extraordinaire. He's also a perfectionist, an elitist, and a taskmaster to employees. By most accounts, Jobs is a borderline loony. He is portrayed as a basket case who fires people in elevators, manipulates partners, and takes credit for others' achievements. Recent biographies paint an unflattering portrait of a sociopath motivated by the basest desires—to control, to abuse, to dominate. Most books about Jobs are depressing reads. They're dismissive, little more than catalogs of tantrums and abuse."
This book however fills us in on some fascinating aspects in the life of Steve Jobs:
Long string of productive partnerships—both personal and corporate: Disney, Pepsi, and the big record labels.
His ability to retain and motivate lots of top-shelf talent … and then give them the freedom to be creative and shield them from the growing bureaucracy at Apple.
Details on the most important innovations and inventions of the last 20 years.
The creative, business, product development, and marketing side of Apple that we actually hear so little about in the media.
Why and how they keep things so secret.
How the Apple culture influences the creation of world-changing products.
The tremendous success of Pixar and plans for its future.
Steve's battle with then-CEO John Sculley which led him to quit Apple before he was fired.
His return to Apple after 11 years for what has been said to be the greatest comeback in business history.
Here you'll learn much about this unique leader who has turned his personality traits into a business philosophy. Journey, if you dare, into the mind of Steve Jobs!
Inside Steve's Brain is available from Amazon. The AchieveMax® company is an affiliate of Amazon.com.
Harry K. Jones is a motivational speaker and consultant for AchieveMax®, Inc., a company of professional speakers who provide custom-designed seminars, keynote presentations, and consulting services. Harry's top requested topics include change management, customer service, creativity, employee retention, goal setting, leadership, stress management, teamwork, and time management. For more information on Harry's presentations, please call 800-886-2629 or fill out our contact form.