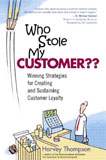 Who Stole My Customer?? Winning Strategies for Creating and Sustaining Customer Loyalty

by Harvey Thompson
Here's an interesting title … for a couple of reasons.
The first reason, it's a question currently being asked by a growing number of businesses across industries. The answers vary of course. I've heard a wide variety of responses … everything from "a bad economy" to "growing competition." I've even heard references to a "technical revolution" resulting in the loss of customers. However, I don't think I've ever heard anyone referring to the subject of "customer service."
The second reason is even more intriguing! "Who Stole My Customer?" is a question which should be asked by many more organizations than are currently asking it. Many are totally unaware that their customers are even missing. It's not that they've stopping buying … they're simply buying from someone else! And the reasons are varied.
This book focuses a great deal of its content on the simple but crucial fact that far too many businesses today are focusing on customer satisfaction. You might think that's a good thing. In reality, it is not.
Times have changed. Customers have changed. Many businesses have not. In today's business environment, the focus must be on establishing LOYALTY rather than customer satisfaction. Doing so results in continuous repeat business and priceless word-of-mouth advertising … two critical elements contributing to ongoing success in today's competitive marketplace.
The author, Harvey Thompson, formerly served as IBM's Global Executive for customer-focused business strategy and design. He previously authored the BusinessWeek bestseller, The Customer-Centered Enterprise.
In his second book, Thompson shares "The Top Ten Myths About Your Customers," the need for "Customer Visioneering," and the importance of "Institutionalizing Loyalty."
At the end of each chapter, the author recaps key learning points with an exercise he calls "You Are the Customer."
This book pragmatically helps you understand how to design highly successful businesses from the customer view in. You must take care of your customers now or lose them to competitors who are more in tune with your customers' needs and wants.
If you're wondering "Who Stole YOUR Customer," you'll want to read this book!
Who Stole My Customer?? Winning Strategies for Creating and Sustaining Customer Loyalty
is available from Amazon. The AchieveMax® company is an affiliate of Amazon.com.
Harry K. Jones is a motivational speaker and consultant for AchieveMax®, Inc., a company of professional speakers who provide custom-designed seminars, keynote presentations, and consulting services. Harry's top requested topics include change management, customer service, creativity, employee retention, goal setting, leadership, stress management, teamwork, and time management. For more information on Harry's presentations, please call 800-886-2629 or fill out our contact form.