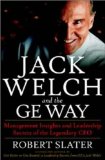 Jack Welch and the GE Way

by Robert Slater
Jack Welch, legendary maverick, discusses the traits that led Business Week to anoint him, "… the gold standard against which other CEOs are measured."
To Jack Welch, change is natural and necessary, and Welch is the master of change. His innate skills and intuition have shaped the course and direction of international business—and his revolutionary strategies have made GE the benchmark for today's global corporation.
Through Welch's own words, along with those of dozens of GE insiders who work alongside him, Jack Welch and the GE Way presents a remarkable corporate success saga—and the extraordinary inside story of one of history's most brilliant business icons.
Welch's defining credo remains the same: "By reaching for the seemingly impossible, you often do the impossible."
(This book review was originally published in 1999 as one of the Top 10 Books – Edition 1.)
Harry K. Jones is a motivational speaker and consultant for AchieveMax®, Inc., a company of professional speakers who provide custom-designed seminars, keynote presentations, and consulting services. Harry's top requested topics include change management, customer service, creativity, employee retention, goal setting, leadership, stress management, teamwork, and time management. For more information on Harry's presentations, please call 800-886-2629 or fill out our contact form.