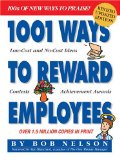 1001 Ways to Reward Employees

by Bob Nelson
Whether you manage a department, oversee a division, lead a company or run a family business with just only one employee, there's an essential principle to follow that's often overlooked: What most motivates the people who work for you is recognition.
A chock-full guide to rewards of every conceivable type for every conceivable situation, this book polls the whole of the American business community, finding innovative ideas in every corner; and from the spontaneous gesture of praise to formal company-wide programs, it presents hundreds of ways to say thank you to the people who truly deserve it.
This book is fantastic for every well-intentioned manager or frustrated employee. It makes a compelling case that recognition, rewards and positive reinforcement all do work and that they can work for you.
(This book review was originally published in 1999 as one of the Top 10 Books – Edition 1.)
Harry K. Jones is a motivational speaker and consultant for AchieveMax®, Inc., a company of professional speakers who provide custom-designed seminars, keynote presentations, and consulting services. Harry's top requested topics include change management, customer service, creativity, employee retention, goal setting, leadership, stress management, teamwork, and time management. For more information on Harry's presentations, please call 800-886-2629 or fill out our contact form.