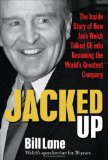 Jacked Up: The Inside Story of How Jack Welch Talked GE into Becoming the World's Greatest Company

by Bill Lane
I must admit that I almost passed on this one. In a personal library I'm very proud of, you'll find every book that's ever been written by and/or about Jack Welch. My first thought upon seeing this new title was "What else is there to learn about this man and his legendary career?" My second thought led me to pick it up for a quick visual inspection, and my third thought cost me money and increased the size of my library.
I was also quite surprised at how much new information I gleaned from this unusual collection of anecdotes, conversation and explicit details of GE's culture and the man who changed it so drastically.
I believe this book was somewhat unique in its offering since this is the first book by a GE insider. It was written by Bill Lane who was Welch's speech-writer for 20 years. He joined GE in that position in 1980, after seven years at the Pentagon. From 1982 to 2001, he was also the Manager of Executive Communications for Welch at GE. Lane's first-hand, fly-on-the-wall, insider tone and great style provides reader's with a front row seat to Welch's 20-year campaign to transform GE.
In addition to learning some interesting new tidbits about Jack Welch, probably the most renowned CEO of the 80s and 90s, and GE, one of the finest corporations in the world, I was also reminded of the many controversial concerns which have surrounded both the CEO and the corporate culture over the years.
According to the author:
Welch demanded that GE become a "learning company" which it did very successfully.
Welch's legacy has been tarnished some by his severance package disclosures and a messy affair that led to divorce #2 and wife #3.
GE quickly removes those not performing and provides tutorials on desired behaviors at corporate seminars.
During the height of the GE years, it was a hard-working, hard-driving, hard-living, hard-drinking and hard-golfing crew. Forget about any rubbish regarding "work-life balance." All is sacrificed to the gods of GE stock price.
Welch developed many successful techniques for quickly changing an organization's culture.
There was an expectation of giving 110% (no going home regularly at 5 p.m.—sorry, soccer moms.)
GE raised the bar substantially on business presentations at every level.
This was not a happy place to work if you were not a white male.
The author speaks bluntly about the challenges to minorities and women in this "corporate culture" during the 80s and 90s although this was obviously politically incorrect. I must admit that I was surprised he actually documented this fact although it was evident at the time all over corporate America.
As you can plainly see, the author reveals the good, the bad, and the ugly when it comes to culture and leadership. The on-going love-hate relationship we share with General Electric and Jack Welch actually provides us with a tremendous learning opportunity. However, many people dislike this corporate giant and unique leader so much that they simply refuse to acknowledge them as a source of learning.
The book is organized into 84 short, interesting chapters which include italicized advice tips that summarize communications strategies.
I believe you'll enjoy reading about the inner workings of G.E., and you'll understand exactly how every leader can master the art of communication, to teach and inspire, shock and provoke, all at the same time.
You'll witness laugh-out-loud-funny cameo appearances from boldface names like Southwest Airlines Herb Kelleher, Don Imus, Jack's ex-wife Jane Welch, Conan O'Brian, and "Triumph, the Insult Comic Dog."
Whether you envy or pity those at GE, agree or disagree with Welch and his iconization as The Ultimate CEO, you'll find this book both educational and entertaining.
(This book review was originally published in 2008 as one of the Top 10 Books – Edition 18.)
Harry K. Jones is a motivational speaker and consultant for AchieveMax®, Inc., a company of professional speakers who provide custom-designed seminars, keynote presentations, and consulting services. Harry's top requested topics include change management, customer service, creativity, employee retention, goal setting, leadership, stress management, teamwork, and time management. For more information on Harry's presentations, please call 800-886-2629 or fill out our contact form.