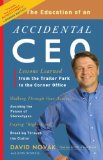 The Education of an Accidental CEO: Lessons Learned from the Trailer Park to the Corner Office

by David Novak and John Boswell
I've often mentioned that I admire any author and/or publisher who can create a cover or title that can grab a potential reader in the fraction of a second those browsing eyes scan the shelves. In this case, the cover has it all.
First of all, the title and subtitle tweaked my curiosity … "Accidental CEO?" That's got to make you wonder. "Trailer Park to Corner Office?" Sounds like rags to riches and those stories are always inspiring. The big guy on the cover in the open-collared blue shirt grinning like he's heading into the weekend with a blank check looks friendly enough but certainly nothing like your typical CEO. Liner notes by the richest man in the world, Warren Buffet, obviously adds credibility. The finishing touch for me came when I recognized the author's name. David Novak is chairman and CEO of Yum! Brands, Inc., home to KFC, Pizza Hut, Taco Bell, Long John Silver's, and A&W All American Food. This was interesting to me because YUM! Brands was the first company we chose to kick off our blog feature "Who's Yer Daddy?" Check it out to learn more about this very unusual organization and the man behind it. True to the title, this book focuses not on the five familiar fast-food brand names we see regularly from coast to coast. It spotlights, instead, David Novak—one of the most engaging, unconventional, and successful business leaders in today's chaotic global marketplace.
As indicated by the subtitle, Novak actually did live in 32 trailer parks in 23 states by the time he reached the seventh grade. He went on to sell encyclopedias door to door, worked as a hotel night clerk, and took a job as a $7,200-a-year advertising copywriter with the hopes of maybe one day becoming a creative director. Instead, he became head of the world's largest restaurant company at the ripe old age of 47.
As a result of that track record, Novak truly believes that people from ordinary and modest beginnings can accomplish great success in the business world. He learned how to be successful in a fiercely competitive world through his life lessons, and in this book, he shares a great deal of the street-smart wisdom he accumulated on that journey.
Several of his personal beliefs really jumped out at me as being very unpretentious but indeed lucrative and time-tested:
"You never know what you're capable of." (I've experienced this myself.)
"The best leaders are the best learners." (Study bios for this common thread.)
"Each and every day provides the opportunity to learn and get better at what you do." (Of course, we must seize that opportunity.)
Oddly enough, this very successful CEO never attended business school. His journey, however, brings the skill of learning to life. He takes immense pride in the fact that he gained so much wisdom from the "school of hard knocks" and feels that experience is a magnificent teacher.
He also credits some of his most impressive lessons to other very smart people:
Laker Magic Johnson taught him the secret of teamwork.
Warren Buffet shared what he looks for in the companies he buys.
John Wodden shared his knowledge of ego.
Jack Welch focused on one thing he would do over.
Not a bad teaching staff if I say so myself. However, to avoid jealously disguised as excuses, understand that you too have access to that same cadre or the equivalent. Read, ask, listen, research. It's all available to anyone with a little initiative and discipline.
David Novak has always been a firm believer in the possibility of building an entire culture around reward and recognition—getting everyone from division presidents to dishwashers to buy into recognizing the achievements of others. His creative strategies for doing so have been studied by many other companies and discussed in this book in great detail.
Here's a short example of what to expect within these 303 pages. Novak believes that "all the answers are in the building." He says, "Every company is filled with experts. If you want to learn the company's history, have a meeting with a 25-year veteran. If you want to know what customers are thinking, talk to the people who answer the 800-number calls. If you want to know why the trucks aren't getting out on time, a route salesman who's been at the job for a while is likely to know the answer." Kind of an "Acres of Diamonds" concept, isn't it? It certainly is sad that more leaders don't capitalize on this basic concept.
Novak's co-author, John Boswell, is a literary agent, a book packager, and the author or coauthor of 17 books, including the #1 New York Times bestseller What They Don't Teach You at Harvard Business School. He lives in New York City. These two literary specialists join forces to share with you what David has discovered about getting ahead and getting noticed; motivating people and turning businesses around; building winning teams and running a global company of nearly one million people; and always staying true to yourself.
By the way, all of the proceeds from this book will be donated to the United Nations World Food Program in conjunction with Yum!'s global hunger relief efforts. David also serves as a director of the Friends of the World Food Program.
(This book review was originally published in 2008 as one of the Top 10 Books – Edition 18.)
Harry K. Jones is a motivational speaker and consultant for AchieveMax®, Inc., a company of professional speakers who provide custom-designed seminars, keynote presentations, and consulting services. Harry's top requested topics include change management, customer service, creativity, employee retention, goal setting, leadership, stress management, teamwork, and time management. For more information on Harry's presentations, please call 800-886-2629 or fill out our contact form.