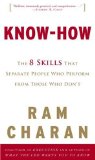 Know-How: The 8 Skills That Separate People Who Perform from Those Who Don't

by Ram Charan
Take a look at this subtitle. If the author knows his stuff, this book should certainly jump off the shelf into the hands of any CEO, manager, leader, supervisor or team leader in any business—global, national, or local. It should also catch the eye of any individual who wants some insight into what it takes to be a productive performer. By the way, the author does know his stuff. Ram Charan is the co-author of the bestseller Execution, the author of What the CEO Wants You to Know and many other books in addition to being a highly acclaimed speaker and advisor. He's a noted expert of business strategy and has coached some of the world's most successful CEOs.
Glance at any current newspaper or magazine, and you know that this country is in dire need of leadership in every field. Well-known industry giants are disappearing with regularity. Front pages are suddenly spotlighting "overnight wonders"—businesses producing billions of dollars at time when others say it can't be done. In this current environment of global competition and constant chaos, the difference is clearly seen in the separation of leaders who perform and those who don't. We speak of it often in our seminars as a very transparent knowing-doing gap. The author tells us it all boils down to "Know-How."
In these pages, Charan shares his four decades of leadership observations. He details eight critical skills, which he calls "know-hows," that are essential for leadership success.
The eight critical Know-Hows include:
Positioning and repositioning the business to make money.
Connecting the dots by pinpointing and taking action on patterns of external change.
Getting people to work together by managing the social system of your business.
Leaders are made, not born: Judging, selecting, and developing leaders. Discovering and developing a person's natural talent.
Molding high-energy, high-powered, high-ego people into a working team of leaders.
Knowing the destination where you want to take your business by developing the proper goals.
Setting laser-sharp dominant priorities that act as a road map for meeting those goals.
Dealing with forces beyond the market. The ability to deal with pressures you cannot control but affect your business.
Charan shares many case studies from his consulting practice to demonstrate both success and failure in leadership situations.
Throughout the book, the author provides helpful tips and tools such as:
"Questions to Ask Yourself"
Early warning signals that may reflect a need for change
How to spot the future leaders of your business
Cognitive traits that improve the Know-Hows
Six personal traits of leaders that help or interfere with the Know-Hows
Traits of leaders who connect the dots
Tips for setting priorities
Charan wraps things up with an encouraging eight-page letter to a future leader, Michael, in which he shares some very sound advice, tips, tools, strategies and insights. While indeed encouraging, the author spares no punches in clearly stating that being a business leader in today's world is not for the faint of heart.
You'll find this book very practical, revealing, and application-oriented. Upon completion, you'll want to keep it close for continuous reference.
(This book review was originally published in 2007 as one of the Top 10 Books – Edition 15.)
Harry K. Jones is a motivational speaker and consultant for AchieveMax®, Inc., a company of professional speakers who provide custom-designed seminars, keynote presentations, and consulting services. Harry's top requested topics include change management, customer service, creativity, employee retention, goal setting, leadership, stress management, teamwork, and time management. For more information on Harry's presentations, please call 800-886-2629 or fill out our contact form.