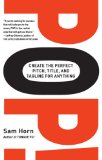 POP!: Create the Perfect Pitch, Title, and Tagline for Anything

by Sam Horn
Prior to investing time, energy, and money in a book like this, you're going to want to know more about the author. Is this a person who can speak from a place of experience, success, and the comfort of having walked the talk? In this case, the author certainly has. Sam Horn has been successfully speaking, consulting, keynoting, authoring, and conducting workshops from coast to coast. She―yes Sam is a female―knows of what she speaks. Admit it, she got you with her name, didn't she? Take a quick look at the titles of her previous books and you'll spot her creativity at first glance:
Tongue Fu!
Conzentrate
Take the Bully by the Horns
What's Holding You Back?
If you want to see more examples of her unique approach to "Popping," visit her web site at www.SamHorn.com.
If your goal is to "break out" rather than "blend in" (chapter title), you'll want to learn more about the three components of POP!
P = Purposeful (make your point)
O = Original (distinguish yourself)
P = Pithy (concise and precise)
I'll say this for Sam—she gets right to the point and doesn't linger there longer than needed. Many of her major points are driven home in a single page and several times in a mere paragraph.
This book is a "must" for entrepreneurs, businesspeople, authors, and anyone who wants to sell themselves, their business, or their products. Sam reminds us that we get less than 60 seconds to capture a potential client's interest in a day and age when they are bombarded by communication—books, e-mail, movies, commercials, IMs, sales calls, and junk mail. Using her easy-to-understand tactics will provide you with that "decisive-edge" that will make the all-importance difference for you.
The author will reveal new ways to brainstorm, communicate ideas, and connect with your clients and colleagues. You'll enjoy her unique tools and strategies:
The W9 Form: Nine key questions to clarify your purpose
The Eureka Moment: Why people love to discover the Next New Thing
ContraBrand: The power of saying something that flies in the face of current wisdom
The Jerry Maguire Test: Five secrets to crafting a message that gets people at hello
Muse It or Lose It: When you think it, ink it!
Half-and-Half: Coin original phrases so you are the expert and sole go-to resource.
See how you feel about this book and author after reading just a few paragraphs of what lies between the covers of Pop!? That's how your clients and colleagues will feel about you after you've mastered the many fresh ideas, techniques, and strategies Sam Horn offers you in her latest attempt to keep popping! By the way, don't attempt sitting down to this banquet without easy access to two highlighters. You'll need them both.
(This book review was originally published in 2007 as one of the Top 10 Books – Edition 15.)
Harry K. Jones is a motivational speaker and consultant for AchieveMax®, Inc., a company of professional speakers who provide custom-designed seminars, keynote presentations, and consulting services. Harry's top requested topics include change management, customer service, creativity, employee retention, goal setting, leadership, stress management, teamwork, and time management. For more information on Harry's presentations, please call 800-886-2629 or fill out our contact form.