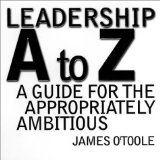 Leadership A to Z: A Guide for the Appropriately Ambitious (Jossey Bass Business and Management Series)

by James O'Toole
Instead of focusing, as most leadership tomes do, on who leaders are, their character, style, charisma, and so on, this book looks closely at what great leaders actually do. As the title implies, Leadership A to Z is organized alphabetically by topic, from Apologia to Zenith, in bite-sized chunks of two to four pages that are meant to be pondered between meetings or while waiting for a plane. However, the author crams a lot of great information in here, drawing on examples from Gandhi to Abraham Lincoln to Roger Enrico of PepsiCO to pro basketball coach Pat Riley.
A leadership coach in a book, this essential reference guide features more than 90 lessons covering an alphabet of leadership topics. Author James O'Toole, a 30-year veteran of leadership coaching, gives specific how-to's drawn from great leaders' success stories and challenges. Leadership A to Z challenges readers to learn what leaders do on a case-by-case basis and to incorporate their styles into their own day-to-day leadership practices.
(This book review was originally published in 2000 as one of the Top 10 Books – Edition 3.)
Harry K. Jones is a motivational speaker and consultant for AchieveMax®, Inc., a company of professional speakers who provide custom-designed seminars, keynote presentations, and consulting services. Harry's top requested topics include change management, customer service, creativity, employee retention, goal setting, leadership, stress management, teamwork, and time management. For more information on Harry's presentations, please call 800-886-2629 or fill out our contact form.