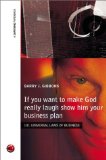 If You Want to Make God Really Laugh Show Him Your Business Plan: 101 Universal Laws of Business

by Barry J. Gibbons
The former CEO of Burger King blows the cover on corporate incompetence—and uncovers the secrets of good business—in his sharp-tongued, riotously funny book.
Why are so many businesses such depressing, poorly directed messes? Ask Barry Gibbons, enlightened capitalist, high-spirited wit, and the man who nearly single-handedly pulled Burger King out of a long, disparaging slump, rendering it robust and dynamic (without cutting heads).
In this rollicking, easy-to-read book, Gibbons blasts apart the thick wall of arrogance, hierarchy, regimentation, and exaggerated complexity so often contributed to the corporate world—and lays bare his 101 "Universal Laws of Business," commonsense truths about how to run a business profitably and well. His sage witticisms and sensible opinions cover motivational theory, limited terms for business leaders, being big but acting small, hurdling marketplace barriers, unhealthy profit, new branding, innovation, information technology, and more.
And Gibbons deftly answers nagging questions, such as: why mediocre products litter a hyper-competitive marketplace that demands distinct ones, why the workforce is supremely alienated, exactly at a time when businesses need savvy, motivated employees and why the most meticulously crafted business plan contains the one and only scenario guaranteed not to happen.
These 101 business truths will grab readers by the gut and make them gasp in relief because they're the things that most everyone (especially the folks laboring in the trenches) know to be true—and wonder why the top dogs don't have a clue.
(This book review was originally published in 2000 as one of the Top 10 Books – Edition 3.)
Harry K. Jones is a motivational speaker and consultant for AchieveMax®, Inc., a company of professional speakers who provide custom-designed seminars, keynote presentations, and consulting services. Harry's top requested topics include change management, customer service, creativity, employee retention, goal setting, leadership, stress management, teamwork, and time management. For more information on Harry's presentations, please call 800-886-2629 or fill out our contact form.