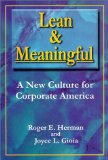 Lean & Meaningful: A New Culture for Corporate America

by Roger E. Herman and Joyce L. Gioia
The dynamic duo strikes again! Herman and Gioia join forces here to describe the next generation of corporate culture in America. Demographic and economic shifts are changing the face of corporate America and enlightened organizations are learning that they must reduce the "fat" and provide meaningful employment to their workers.
The corporation of the future will look dramatically different than today's concept—structurally and conceptually. We've known for quite some time now that "If you always do what you always did, you'll always get what you always got." Obviously, that simply won't cut it today. Have you developed a strategy to prepare your organization for the "new look"? If not, start bench-marking today within these pages.
A wide range of trends is explored, explained, and illustrated with examples of what more than 200 companies, both large and small, and governmental agencies, city and state, are already doing.
If you're ready to prepare your organization for future success, this book will give you insights, ideas, resources, and action plans to help you make a meaningful difference.
(This book review was originally published in 2001 as one of the Top 10 Books – Edition 7.)
Harry K. Jones is a motivational speaker and consultant for AchieveMax®, Inc., a company of professional speakers who provide custom-designed seminars, keynote presentations, and consulting services. Harry's top requested topics include change management, customer service, creativity, employee retention, goal setting, leadership, stress management, teamwork, and time management. For more information on Harry's presentations, please call 800-886-2629 or fill out our contact form.