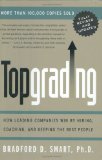 Topgrading: How Leading Companies Win by Hiring, Coaching, and Keeping the Best People

by Bradford D. Smart, Ph.D.
THIS BOOK IS NOT FOR THE FAINT-HEARTED. Those predisposed to protect "dead wood" will take issue with the basic underlying philosophy of this book. Those who, way down deep, would sooner see an organization die than nudge a hopelessly incompetent person out of a job, should not read this book. This person is probably not an A player, will not become an A player, will not want to hire A players, will not want to coach people to become A players, has difficulty retaining A players, and does not belong in a premier, topgraded organization. Topgrading is for A players and all those aspiring to be A players.
The author defines topgrading as the practice of filling every position in the organization with an A player, at the appropriate compensation level. A player is defined as the top 10% of talent available at all salary levels—best of class. He believes that great companies are made, not born. The secret is hiring the right people—the "A" players. This is, of course, easier said than done. Statistically, half of all employment situations result in a mis-hire: the wrong person for the wrong job. And with the cost of a mis-hire at 24 times salary, the financial drain can be staggering.
This 400+ page book is a compilation of insights and advice based on more than 4,000 career case studies … first-hand, exhaustive interviews of successful managers' entire careers. The tools and strategies offered here come from 27 years of working with dozens of organizations, many premier in their industries.
Discover a silver-bullet assessment technique, the Chronological In-Depth Structured (CIDS) interview. CIDS can boost your hiring success rate from 50% to 90% or better. It's not perfect but close enough that it permitted entire companies to topgrade in one year, replacing players with almost all A players and a few Bs. If you attempt to topgrade and your batting average in replacing C players is only .500, you will fail. CIDS is not just desirable, but necessary in assuring that you replace Cs with As.
I could go on and on describing the useful contents of Topgrading, but I fear you'd break a leg racing to the bookstore. Walk slow. Read fast. You need this one.
(This book review was originally published in 2001 as one of the Top 10 Books – Edition 7.)
Harry K. Jones is a motivational speaker and consultant for AchieveMax®, Inc., a company of professional speakers who provide custom-designed seminars, keynote presentations, and consulting services. Harry's top requested topics include change management, customer service, creativity, employee retention, goal setting, leadership, stress management, teamwork, and time management. For more information on Harry's presentations, please call 800-886-2629 or fill out our contact form.