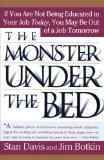 The Monster Under the Bed

by Stan Davis and Jim Botkin
In today's fast-paced world, knowledge is doubling nearly every seven years, while the life cycle of a business grows increasingly shorter. The best way—and perhaps the only way—to succeed is to become a "knowledge-based" business. In this book, the authors will show you how:
Every business can become a knowledge business.
Every employee can become a knowledge worker.
Every customer can become a lifelong learner.
The Monster Under the Bed explains why it's necessary for businesses to educate employees and consumers. Consider the fact that the vast majority of 60 million PC owners, for example, learned to use their computers not at school but at work or at home. The authors explain how any high-tech, low-tech, or no-tech company can discover new markets and create new sources of income by building future business on a knowledge-for-profit basis—and how, once it does, its competitors must follow or fail.
Filled with examples of high-profile companies that are riding the crest of this powerful wave, this book is an insightful exploration of the many ways that the knowledge-for-profit revolution will profoundly affect our businesses, our educational processes, and our everyday lives.
(This book review was originally published in 1999 as one of the Top 10 Books – Edition 2.)
Harry K. Jones is a motivational speaker and consultant for AchieveMax®, Inc., a company of professional speakers who provide custom-designed seminars, keynote presentations, and consulting services. Harry's top requested topics include change management, customer service, creativity, employee retention, goal setting, leadership, stress management, teamwork, and time management. For more information on Harry's presentations, please call 800-886-2629 or fill out our contact form.