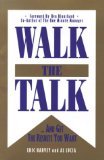 Walk the Talk … And Get the Results You Want

by Eric Harvey and Alexander Lucia
CAUTION! This is a book you'll find yourself reading time and time again. It is so captivating that several of our CEO clients have purchased a copy for each of their managers and supervisors. It educates and entertains through the journey of two fictitious characters who reveal the many pitfalls that typically lay hidden from management. Walk the Talk will arm you with the solutions to overcome these barriers.
Walk the Talk has answers to some of the most pressing business challenges facing us today and tomorrow. Everyone from corporate executives to individual contributors will benefit from these results-oriented principles and techniques for building a productive, enjoyable and high-performance culture.
The authors have created an entertaining and practical tool to help you understand the power and simplicity of walking the talk. It's an invaluable tool for anyone who works with or through other people.
(This book review was originally published in 1999 as one of the Top 10 Books – Edition 2.)
Harry K. Jones is a motivational speaker and consultant for AchieveMax®, Inc., a company of professional speakers who provide custom-designed seminars, keynote presentations, and consulting services. Harry's top requested topics include change management, customer service, creativity, employee retention, goal setting, leadership, stress management, teamwork, and time management. For more information on Harry's presentations, please call 800-886-2629 or fill out our contact form.