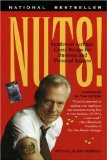 Nuts! Southwest Airlines' Crazy Recipe for Business and Personal Success

by Kevin and Jackie Freiberg
How's this for performance? Southwest Airlines has turned a profit every year since 1973, yet it maintains the lowest fares in the industry. It has never laid off an employee, regularly ranks best in customer service, and has a consistently high safety record. It is continually rated as one of the ten best companies to work for in America and the CEO and employees have all been labeled as NUTS!
This book will explain how Southwest Airlines can be so NUTS and so successful at the same time. The authors describe the inner workings of one of America's biggest success stories, complete with 60 color photos. The book is conveniently divided into several different parts that emphasize various perspectives. You'll learn the history of how the culture was born, some key principles of the company's vision and culture, and how the culture is maintained and encouraged. The final section takes a more leadership-oriented perspective.
You'll discover how Southwest manages problems under tight constraints and intense competition. You'll learn how they think and act "out of the box" to achieve faster results. You'll discover how to re-define the rules and make the impossible happen. You'll gain valuable insights into corporate recruiting and employee retention. You'll learn to manage in difficult times, how to manage with limited resources, how to be optimistic and how to overcome heavy odds in your personal life to fulfill your dreams. You'll also laugh to yourself from cover to cover!
(This book review was originally published in 2000 as one of the Top 10 Books – Edition 4.)
Harry K. Jones is a motivational speaker and consultant for AchieveMax®, Inc., a company of professional speakers who provide custom-designed seminars, keynote presentations, and consulting services. Harry's top requested topics include change management, customer service, creativity, employee retention, goal setting, leadership, stress management, teamwork, and time management. For more information on Harry's presentations, please call 800-886-2629 or fill out our contact form.