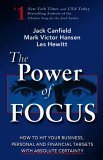 The Power of Focus: What the Worlds Greatest Achievers Know about The Secret of Financial Freedom and Success

by Jack Canfield, Mark Victor Hansen, and Lew Hewitt
The best-selling authors of the Chicken Soup for the Soul series join forces to show you how to hit your business, personal, and financial targets with absolute certainty.
Whether they are corporate professionals, budding entrepreneurs, or home-business owners, most people are looking to achieve more in less time, while earning enough money to live comfortably. This book reveals the proven techniques thousands of people have used to attain all of the money they wanted while living healthy, happy, and balanced lives. This book is a practical, no-nonsense guide that shows readers how to reach their business, personal, and financial goals without getting burned out in the process.
Discover the three most important fundamentals for consistent success and ten powerful focusing principles as you enjoy numerous anecdotes and inspiring stories that reinforce each principle.
(This book review was originally published in 2000 as one of the Top 10 Books – Edition 4.)
Harry K. Jones is a motivational speaker and consultant for AchieveMax®, Inc., a company of professional speakers who provide custom-designed seminars, keynote presentations, and consulting services. Harry's top requested topics include change management, customer service, creativity, employee retention, goal setting, leadership, stress management, teamwork, and time management. For more information on Harry's presentations, please call 800-886-2629 or fill out our contact form.