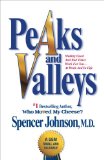 Peaks and Valleys: Making Good and Bad Times Work for You-at Work and in Life

by Spencer Johnson, M.D.
Here we find another of those very popular "mini-books" (103 pages) aimed at those readers craving a powerful message via a short read. Who better to grant that request than author Spencer Johnson, who did exactly that in Who Moved the Cheese, The Present, and his solid contributions to the One Minute Manager series? More than 46 million copies of Spencer Johnson's books are in print worldwide in more than 47 languages.
The timing couldn't be better for this story. If you're a person who has been trying to survive or just make it during these tough times, this narrative may just provide that valuable clarity that you need right now.
This tale focuses on a man who is struggling in his life. A friend tells him a story about another man in a similar situation. He lives unhappily in a valley until he meets an old man who lives on a peak. That meeting changes his work and life forever.
Initially, the young man has no idea he is talking with one of the most peaceful and successful people in the world. However, through a series of conversations and experiences, the young man learns that peaks and valleys are all a part of life. The key to living a richer life is how you perceive and address the peaks and valleys and what you learn while you are traversing the peaks and valleys.
He realizes he can use the old man's remarkable principles and practical tools in good times and bad times to make a difference in his life. As a result he becomes more calm and successful and takes more control of his life.
While the messages may be somewhat basic, they are indeed powerful if properly applied. For instance:
"You can have fewer bad times when you appreciate and manage your good times wisely."
"The pain in a valley can wake you up to a truth you have been ignoring."
"The path out of a valley appears when you choose to see things differently."
Understand and apply this wisdom to successfully navigate the peaks and valleys of your life at work and at home. Recognize and utilize the positive that is so often hidden in the bad times. Appreciate and capitalize on your good times. This book will provide you with the clarity to do just that.
(This book review was originally published in 2009 as one of the Top 10 Books – Edition 20.)
Harry K. Jones is a motivational speaker and consultant for AchieveMax®, Inc., a company of professional speakers who provide custom-designed seminars, keynote presentations, and consulting services. Harry's top requested topics include change management, customer service, creativity, employee retention, goal setting, leadership, stress management, teamwork, and time management. For more information on Harry's presentations, please call 800-886-2629 or fill out our contact form.