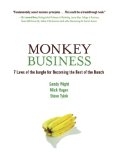 Monkey Business: 7 Laws of the Jungle for Becoming the Best of the Bunch

by Sandy Wight, Mick Hager, and Steve Tyink
Here we have another of the numerous "mini-books" adorning book store shelves today. Three experienced consultants have combined their experience, talent and creativity to fill a mere 114 pages with a light-hearted approach to the serious business of engaging customers and employees in a mutually beneficial relationship.
What I found intriguing was the fact that they managed to accumulate, in so few pages, so many basic rules, lessons, ideas, principles and strategies for creating the optimum customer service environment—most of which are not being used by the majority of today's organizations.
The jungle provides a clever metaphor of today's business climate and that theme is astutely carried out from cover to cover.
You'll discover the profound power of "Monkey See-Monkey Do" as well as the 7 Laws of the Jungle for Becoming the Best of the Bunch.
Establish Your Rock.
Create Your Value Vine.
Live the Exclamation Factor!
Set Your Customer Connection Points.
MMFI (Make Me Feel Important).
Take Full Responsibility for Our Customers.
Use the Energy Advantage!
Utilizing the magic of analogy and fantasy, the authors have created a guidebook on customer service that will captivate readers from start to finish.
To enhance your experience, you'll discover useful and unique tips and tools in the form of sidebars on most every page. They've been arranged in four categories:
Monkey Wisdom – (66)
Monkey Magic – (14)
Monkey Instinct – (10)
Monkey Speak – (15)
Join a special spider monkey, Leader, on his journey through the jungle, and you'll learn along with him how to create an enduring, relationship-driven, service-focused, customer-centered, profitable organization.
(This book review was originally published in 2009 as one of the Top 10 Books – Edition 20.)
Harry K. Jones is a motivational speaker and consultant for AchieveMax®, Inc., a company of professional speakers who provide custom-designed seminars, keynote presentations, and consulting services. Harry's top requested topics include change management, customer service, creativity, employee retention, goal setting, leadership, stress management, teamwork, and time management. For more information on Harry's presentations, please call 800-886-2629 or fill out our contact form.