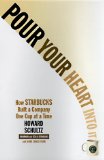 Pour Your Heart Into It: How Starbucks Built a Company One Cup at a Time

by Howard Schultz and Dori Jones Yang
I'm going to share very little about this book. Instead, I'd like to tell you WHY you should read it. It's all about a very unusual man and even more unusual company—both of which continue to defy conventional wisdom on what appears to be a daily basis!
I must admit that I, myself, have never been a coffee lover. In fact, I don't drink it at all. I began to pay attention to Howard Schultz and Starbucks about five years ago and did so quite by accident. I read a piece in a magazine about the unusual phenomenon of our country seemingly willing to accept the presence of an overpriced coffee shop on what seems to be every corner in the nation. For instance, in Manhattan alone, you can find 171 Starbucks! In Denver there are 45, in Boston there are 55, in Seattle there are 89 and in Chicago there are 97. How many companies offering any product and/or service continue to saturate our country at such an astonishing pace? Few, if any.
Let me tell you why you want to know more about this unconventional man and his distinctive organization.
Howard Schultz
He's an American businessman and entrepreneur most widely known as the Chairman and Chief Global Strategist of Starbucks and former owner of the Seattle Supersonics.
Howard was born in 1952 and grew up in a subsidized public housing project in Brooklyn, New York, as the eldest of three children. A football scholarship to faraway Northern Michigan University was his ticket out of the projects and he became the first in his family to earn a degree.
After graduating, Howard worked at a variety of jobs for six years before becoming the manager of U.S. operations for Hammarplast, a Swedish maker of stylish kitchen equipment and housewares.
At this point, I find a critical portion of Howard's career to somewhat shadow that of Ray Kroc inasmuch as they were drawn to their destinies in much the same way. Schultz was working for a Swiss company that sold kitchen items. He noticed this small little specialty coffee store in Seattle was buying more plastic filters than anybody, and he decided to see why. What started as curiosity quickly grew to a obsession that he had to leave his job as vice president, move from New York and start working for them. Ray Kroc did much the same thing in discovering McDonalds as a result of noting their constant need for the malted milk machines he sold for a living.
Schultz, like Kroc, had a keen business sense and a rare ability to create a vision much greater than anything existing leadership could hope to offer. Both icons took their respective companies to heights never imagined by the original leaders.
In sharing his vision with Starbucks decision makers, he was informed that they had no interest in getting into the restaurant business. He left Starbucks and started his own small, friendly café in Seattle, which soon became a gathering place for notable locals. Five years later, he bought out the Starbucks partners for $3.8 million and hasn't looked back since.
Taking great pride in his knack for "Thinking Outside the Cup," Schultz developed a series of practices that were unprecedented in retail. He insisted that all employees working at least 20 hours a week get comprehensive health coverage, including coverage for unmarried spouses.
Then he introduced an employee stock-option plan. These moves boosted employee loyalty and led to extremely low employee turnover, even though salaries were fairly low. To this day, leaders in every industry claim these benefits simply aren't feasible. Last year, Forbes Magazine ranked Schultz as the 354th richest person in the U.S., with a net worth of $1.1 billion!
Starbucks Corporation
Starbucks is a dominant multinational coffeehouse chain based here in the U.S.
Named after the first mate in the novel Moby-Dick, Starbucks is the largest coffeehouse company in the world!
Boasting 7,521 company-owned and 5,647 licensed stores in 41 countries, worldwide locations total 13,168.
Industry experts predict a future of 50,000 stores, trumping even McDonalds. Think about that for a moment.
Last year they registered revenues of $7.786 BILLION!
They are currently opening coffee shops at the rate of 3½ a day worldwide and that figure is expected to increase soon!
They currently employ over 147,436 employees!
They are currently hiring 250 people a day!
Their subsidiaries include Starbucks Coffee Company, Tazo Tea Co., Seattle's Best Coffee, Torrefazione Italia, Hear Music, and Ethos Water.
Starbucks brand ice cream and coffee are also sold in grocery stores and they have ventured beyond refreshments into books, music, and film.
Here's the most amazing fact. At a time when this country is facing financially challenging times, this company bases its success on the fact that they are selling a product that averages $12.88 a gallon while consumers are complaining about $3 a gallon gasoline!! More power to them.
Starbucks has managed to blossom without national advertising.
Despite their tremendous success, they have less than 6% market share of coffee consumption. They are in the infant stages of growth in this business!
Now you know about the Man and his Machine. I highly recommend that you read this book to gain a remarkable insight into this extraordinary journey by a very unique leader. The book contains dozens of revealing quotes by some of the world's greatest minds. This is a very rare and enthralling book about true passion, dealing with the challenges of rapid and significant growth, truly serving and caring about the customer, nurturing employees, helping people from the heart, and experiencing true success to its fullest extent. Upon completion, you'll see your neighborhood Starbucks in a new light.
(This book review was originally published in 2008 as one of the Top 10 Books – Edition 17.)
Harry K. Jones is a motivational speaker and consultant for AchieveMax®, Inc., a company of professional speakers who provide custom-designed seminars, keynote presentations, and consulting services. Harry's top requested topics include change management, customer service, creativity, employee retention, goal setting, leadership, stress management, teamwork, and time management. For more information on Harry's presentations, please call 800-886-2629 or fill out our contact form.