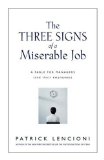 The Three Signs of a Miserable Job: A Fable for Managers (And Their Employees)

by Patrick Lencioni
Patrick Lencioni has done it again. He's provided still another of his celebrated fables that both entertain and educate with equal success. This author is the president of The Table Group, a management consulting firm specializing in executive team development and organizational health. As a consultant and keynote speaker, he's worked with thousands of senior executives ranging from Fortune 500s and high-tech start-ups to universities and nonprofits.
This priceless experience is personified in the subject matter Lencioni has focused on in each of his best-selling leadership fables. A quick review of his titles will reveal that he knows how to strike at the heart of the matter when guiding leaders to ultimate success in their chosen fields.
The Five Temptations of a CEO
The Four Obsessions of an Extraordinary Executive
The Five Dysfunctions of a Team
Death by Meeting
Silos, Politics, and Turf Wars
And now this gifted author adds to that impressive compilation with his latest offering, The Three Signs of a Miserable Job. As you can plainly see, Lencioni knows well the barriers, road blocks and speed bumps which hinder both individuals and organizations as they journey onward to obtain their objectives in an ever-growing chaotic business environment. Many executives, hampered by ego and/or denial, struggle to acknowledge the obvious truths and explicit strategies Lencioni shares via his vivid fables and targeted counsel. Those who check their ego at the door, overcome their denial, and heed his advice reap monumental benefits and move on to undertake other challenges.
In a mere 257 pages, his latest fable tells the inspiring tale of a high-flying, but deeply dissatisfied CEO who ditches the power and perks for career bliss as the manager of a pizzeria! In this unusual and inspiring story, Lencioni convincingly demonstrates how career happiness (or misery) is the direct result of the manager-employee relationship.
His years of consulting has led him to a vivid realization—job misery is having a devastating impact on individuals and on society at large. In fact, the stories and anecdotal evidence confirming job misery are overwhelming. Misery spans all income levels, ages and geography. A recent Gallup poll found that 77% of people hate their jobs. Gallup also contends that this ailing workforce is costing employers more than $350 billion dollars in lost productivity.
The primary source of job misery and the potential cure for that misery resides in the hands of one individual―the direct manager. There are countless studies confirming this statement, including both Gallup and The Blanchard Companies. Both organizations have found that an employee's relationship with their direct manager is the most important factor in determining employee satisfaction … more so than pay, benefits, perks, and work-life balance.
In this book, Lencioni reveals the three corners of the employee unhappiness pyramid. I won't divulge them here, but I can assure you that you'll immediately recognize and relate to each of the three "signs." The author shatters several myths about workplace satisfaction and offers some real advice on how to turn the daily grind into daily fulfillment.
When asked why managers don't address the three obvious "signs" of misery, Lencioni reveals a number of reasons:
Few managers take a genuine interest in their people.
Few managers remind their people of the impact that their work has on others.
Few managers help them establish creative ways to measure and assess their performance.
Many managers think they are too busy to do these things.
Many managers see themselves primarily as individual contributors who happen to have direct reports.
Many managers fail to realize that the most important part of their jobs is providing their people with what they need to be productive and fulfilled (a.k.a. not miserable) in their jobs.
Many managers simply forget what it was like when they were a little lower on the food chain.
Many managers are embarrassed or afraid to try. They fear that their employees will see them as being disingenuous or manipulative, or that by taking an interest in their personal lives they will be stepping into inappropriate territory.
As Lencioni shares his examples and insights, you might very well surmise that he's talking about your own workplace. The "signs" are that universal and obviously that prevalent.
The final appendix-like chapter provides a helpfully stripped-down version of the author's model and strategies. He also provides a web site where you can find job tools, downloads, and helpful products. Lencioni provides a powerful message to all who lead people, one that will produce exceptional loyalty and results.
(This book review was originally published in 2008 as one of the Top 10 Books – Edition 17.)
Harry K. Jones is a motivational speaker and consultant for AchieveMax®, Inc., a company of professional speakers who provide custom-designed seminars, keynote presentations, and consulting services. Harry's top requested topics include change management, customer service, creativity, employee retention, goal setting, leadership, stress management, teamwork, and time management. For more information on Harry's presentations, please call 800-886-2629 or fill out our contact form.