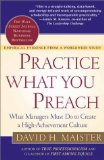 Practice What You Preach: What Managers Must Do to Create a High Achievement Culture

by David H. Maister
I can't believe this book title hasn't surfaced until now. It's a phrase that most of us have known since childhood. It's great advice and something you might assume to be an obvious game plan for anyone striving for success. I wonder if it's been avoided for so long because so few people and organizations actually do it?
In this book, the author asked and answers a very simple question: "Are employee attitudes correlated with financial success?" The answer he found, was "an unequivocal 'Yes!'" This highly respected consultant bases his findings on a worldwide survey of 139 offices in 29 professional service firms in 15 countries in 15 different lines of business. He proves that if your firm doesn't promote enthusiasm and high morale in your employees, your firm will make less money. Maister wrote the text in plain language and deferred all statistical language and presentation to the appendices. You'll learn, in no uncertain terms, how you can create a culture in your organization that promotes growth and superior financial returns.
Loaded with case studies, comparisons, strategies, questionnaires, and characteristics of successful organizations, this insightful work will facilitate your growth as a business leader and manager. Upon completion of this book and adoption of its principles, you'll be well on your way to joining a very exclusive group of leaders … those who practice what they preach!
(This book review was originally published in 2002 as one of the Top 10 Books – Edition 10.)
Harry K. Jones is a motivational speaker and consultant for AchieveMax®, Inc., a company of professional speakers who provide custom-designed seminars, keynote presentations, and consulting services. Harry's top requested topics include change management, customer service, creativity, employee retention, goal setting, leadership, stress management, teamwork, and time management. For more information on Harry's presentations, please call 800-886-2629 or fill out our contact form.