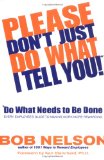 Please Don't Just Do What I Tell You, Do What Needs to Be Done: Every Employee's Guide to Making Work More Rewarding

by Bob Nelson
Here's another mini-book, 105 pages, that packs a real wallop in a simple, smart and savvy way. Bob Nelson is the million-copy best-selling author of the 1001 Ways series (1001 Ways to Reward Employees, 1001 Ways to Energize Employees, and 1001 Ways to Take Initiative at Work) and Managing for Dummies.
In what is certain to be Bob's next best seller, he spells out the message that should be shared with every new employee and seasoned staff member alike: "You never need permission to do great work. Wherever you work, whomever you work for, management expects that you will always use your own best judgment and effort to figure out what needs to be done and then do it without having to be told." The author calls this The Ultimate Experience.
Wouldn't you agree that this is a message that every employee needs to hear, but few employers explicitly state? Nelson illustrates his theory with examples and anecdotes from real life situations. He maps out a specific and easy-to-follow strategy that is brief, to the point, and inspiring.
Here's another winner destined for your mini-book shelf!
(This book review was originally published in 2002 as one of the Top 10 Books – Edition 10.)
Harry K. Jones is a motivational speaker and consultant for AchieveMax®, Inc., a company of professional speakers who provide custom-designed seminars, keynote presentations, and consulting services. Harry's top requested topics include change management, customer service, creativity, employee retention, goal setting, leadership, stress management, teamwork, and time management. For more information on Harry's presentations, please call 800-886-2629 or fill out our contact form.