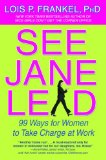 See Jane Lead: 99 Ways for Women to Take Charge at Work

by Lois P. Frankel, Ph.D.
For decades many women have been told that they can only succeed in business if they adopt traits that have forever been considered masculine. In short, you'd better think, sound, and act very much like your male counterpart if you hope to compete on any level.
Along comes Dr. Lois P. Frankel to challenge that long-standing theory. Here we have an author who specializes on the subject in focus. Lois is the president of Corporate Coaching International, a California-based consulting firm that specializes in executive coaching, leadership development, and team building. She has also authored Nice Girls Don't Get the Corner Office: 101 Unconscious Mistakes Women Make That Sabotage Their Careers, Stop Sabotaging Your Career: 8 Proven Strategies to Succeed―In Spite of Yourself and Overcoming Your Strengths: 8 Reasons Why Successful People Derail and How to Get Back on Track among others.
It is the author's contention, based on years of her own studies, that the very characteristics we typically attribute to women are exactly the same traits and talents that make women even more qualified to lead in today's challenging environment. In reviewing business headlines over the past few years, I can think of a number of male leaders that might want to give some serious consideration to thinking, sounding, and acting very much like some of the prominent female leaders who have recently emerged in very positive and productive roles. (Check our blog article, "Gender Gap in Pay, Recognition and Rewards," for 13 bios of current female leaders who are positively paving the way for so many others.)
The author not only shares her reasoning for this role reversal but offers a detailed plan to benefit from the very instincts once considered a hindrance in the career development of most women. Frankel punctuates her tips with short bios of influential women providing real-life examples of success in male-dominated fields. Each of her examples focus on the fact that these women took full advantage of their feminine qualities.
As for the 99 tips promised in the title, you'll find them dispersed throughout the 270 pages, which comprise nine chapters of solid content. In addition to the 99 tips, you'll find a quiz that will assist you in determining which aspects of leadership need to be personally strengthened. The author then dedicates a full chapter to each leadership aspect to assist you in the creation of a personal action plan to capitalize on each area.
As if that weren't enough, you'll find anecdotes and exercises, team effectiveness surveys, self-assessment tests, and a communication-style classification. In the final pages, Dr. Frankel also provides a very helpful reading list of many excellent books that will provide additional assistance in any woman's pursuit of business and personal success.
In short, this book provides an excellent blueprint for women wanting to tap their full potential as future leaders in every aspect of their lives.
(This book review was originally published in 2007 as one of the Top 10 Books – Edition 16.)
Harry K. Jones is a motivational speaker and consultant for AchieveMax®, Inc., a company of professional speakers who provide custom-designed seminars, keynote presentations, and consulting services. Harry's top requested topics include change management, customer service, creativity, employee retention, goal setting, leadership, stress management, teamwork, and time management. For more information on Harry's presentations, please call 800-886-2629 or fill out our contact form.