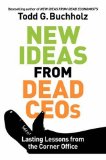 New Ideas from Dead CEOs: Lasting Lessons from the Corner Office

by Todd G. Buchholz
In a recent blog article,"Tips for Choosing a Great Book," I shared five elements I look for when searching for a good book. One of those five elements happened to be a "Catchy Title." It's not the title alone that impresses me. A catchy title simply reflects the author's creativity as well as his/her ability to capture the attention of potential readers. If the author can capture my attention with the title, he/she can do the same with the content. This title obviously does just that.
When it comes to benchmarking, people either enjoy it, or they don't. There is seldom anything in between. If you happen to enjoy it and are able to transfer what you learn to your own personal challenges and opportunities, you'll enjoy this book.
The author, Todd G. Buchholz, is a former White House director of economic policy, an award-winning Harvard professor, and managing director of the Tiger hedge fund. He was also a co-producer of Broadway's Tony Award-winning Jersey Boys. He's also written for The New York Times, The Wall Street Journal, Forbes, and Reader's Digest. He's also authored a number of other best sellers.
This unique history book blends both the lives and the business challenges of the featured CEOs in order to expose their strengths and the circumstances they had to overcome. You'll gain some very interesting insights into the lives of each of the following CEOs:
Ray Kroc — McDonalds
Sam Walton — Wal-Mart
Mary Kay Ash — Mary Kay Cosmetics
Estee Lauder — Estee Lauder
Walt Disney — Disney
Akio Morita — Sony
Thomas Watson Jr. — IBM
David Sarnoff — RCA
A.P. Giannini — Bank of America
The author chose these particular CEOs by deploying several criteria.
They had to be innovators, not just outstanding managers. These CEOs felt it is better to make yourself obsolete than to wait and let your competitors do it for you. These CEOs did not wait.
They had to be interesting to the author. The CEOs in this book teach us about the forces that made the 20th Century so uplifting in its technology and brutal in its politics.
Third and most important, the author chose to focus on CEOs who teach us lessons that we can apply today, either as managers or as investors.
Interestingly, each of these CEOs failed at some point. I've always believed we could learn as much, if not more, from individual and/or organizational failure as we could from obvious success. Faced with bankruptcy and defections, they could have succumbed to psychological depression or the siren of politicians offering class warfare. But they pushed on, energized by passion, ego, money, and the promise of glory.
I think you'll enjoy this intimate look and fascinating insight into the professional and personal lives of these CEOs. You'll also learn how we can apply their ideas to the present-day triumphs and struggles of Sony, Dell, Costco, Carnival Cruises, Time Warner, and numerous other companies trying to figure out how to stay on top or climb back up.
(This book review was originally published in 2007 as one of the Top 10 Books – Edition 16.)
Harry K. Jones is a motivational speaker and consultant for AchieveMax®, Inc., a company of professional speakers who provide custom-designed seminars, keynote presentations, and consulting services. Harry's top requested topics include change management, customer service, creativity, employee retention, goal setting, leadership, stress management, teamwork, and time management. For more information on Harry's presentations, please call 800-886-2629 or fill out our contact form.