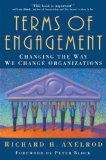 Terms of Engagement: Changing the Way We Change Organizations

by Richard H. Axelrod
For decades, organizations have been preaching the need for change. Fast Company chose this subject as a recent cover story for its rapidly growing readership. Everything in our lives seems to be changing on a regular basis—including the way we manage change. The change management paradigm first appeared 20 years ago and was hailed as revolutionary at that time. Today, the entire field of organizational change is undergoing a massive revolution.
Author Richard Axelrod, a pioneer in the field of change management, points out that leader-driven change may have worked well in times past but obviously falls short in today's technology-driven workplace. He doesn't stop at critiquing conventional change management programs. He recommends a four-aspect change model, the Engagement Paradigm, designed to overcome communication stalls and mis-communications.
This new approach provides a basis for change that truly involves the entire organization. Four essential new principles make the difference:
Widen the circle of involvement,
Connect people to each other and ideas,
Create communities for action, and
Practice democratic principles.
Axelrod provides excellent examples from such companies as Hewlett-Packard, First Union Bank, Mercy Healthcare, and others. He explains how these four principles enable leaders to create energy and commitment rather than apathy and resistance. Recognizing the potential for misapplication, he also shows how engagement can disengage, and identifies potential pitfalls to avoid.
This practical guide offers innovative, practical guidance for bringing the entire organization to the level of engagement vital to successful change outcomes.
(This book review was originally published in 2001 as one of the Top 10 Books – Edition 8.)
Harry K. Jones is a motivational speaker and consultant for AchieveMax®, Inc., a company of professional speakers who provide custom-designed seminars, keynote presentations, and consulting services. Harry's top requested topics include change management, customer service, creativity, employee retention, goal setting, leadership, stress management, teamwork, and time management. For more information on Harry's presentations, please call 800-886-2629 or fill out our contact form.