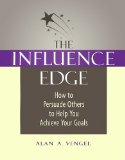 The Influence Edge: How to Persuade Others to Help You Achieve Your Goals

by Alan A. Vengel
If you're looking for a good read that allows you to sit back, relax, read, absorb content and assume that the author's advice will work when the time comes—look elsewhere! While this is definitely a good read, the author made certain you were going to accompany him on this learning journey!
Old-school, top-down chain-of-command hierarchies are obsolete, fast giving way to networked, team-oriented organizations. To be successful in this new environment, the ability to influence others is essential. This book is a direct, step-by-step, clear and concise guide to this artful skill.
Organized as a workbook—with two dozen forms, tools and exercises and illustrated throughout with all-too-familiar real-life scenarios—The Influence Edge explains what really goes on under the surface in everyday relationships.
The interactive format of the book allows you to learn the concepts and, more importantly, actually practice the crucial techniques before you return to the workplace and put your ideas on the line.
Today's workplace demands much of those who pursue success. You must build alliances, interact with a variety of personalities from a position of little or no direct authority, create and maintain long-term rapport with difficult people, and develop special influence tactics that are essential to getting your job done.
The author, Alan A. Vengel, draws on his consulting work with executives and managers in hundreds of major corporations in a wide variety of industries to provide you with the essential elements of influence to survive in today's competitive workplace.
Vengel shares the interesting concept of "push-pull energy," the idea that that there are two very different ways of influencing people and that you need to know when and how to use each one, or when it's best to combine the two. It's a subtle concept but the exercises throughout the book show you how to use it to design a very sophisticated and effective influence strategy.
If you want to accomplish your workplace goals, you're going to have to build long-lasting rapport with a variety of personalities. This book should be your first step in that critical journey.
(This book review was originally published in 2001 as one of the Top 10 Books – Edition 8.)
Harry K. Jones is a motivational speaker and consultant for AchieveMax®, Inc., a company of professional speakers who provide custom-designed seminars, keynote presentations, and consulting services. Harry's top requested topics include change management, customer service, creativity, employee retention, goal setting, leadership, stress management, teamwork, and time management. For more information on Harry's presentations, please call 800-886-2629 or fill out our contact form.