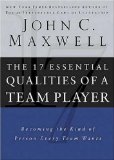 The 17 Essential Qualities of a Team Player: Becoming the Kind of Person Every Team Wants

by John C. Maxwell
He's b-a-c-k-k-k-k-k! If Maxwell wrote it—you should read it! He's that darn good! Known as America's expert on leadership, John C. Maxwell is founder of The INJOY Group, an organization dedicated to helping people maximize their personal and leadership potential. Through seminars, books, and tapes, Dr. Maxwell encourages and motivates more than one million people a year. Can you imagine having that kind of an impact on society? He's earned it and certainly lives up to his reputation. He has authored more than 25 books including many we've mentioned in previous reviews and newsletter articles such as The 21 Irrefutable Laws of Leadership, The 21 Indispensable Qualities of a Leader, Developing the Leader Within You, The 17 Indisputable Laws of Teamwork, and Failing Forward.
Dr. Maxwell returns now with The 17 Essential Qualities of a Team Player. Teams have been around forever in every aspect of society … business, family, church, and recreation. However, today they seem to be more important than ever. While most leaders have read the books, attended the seminars, listened to the audio tapes, and claim to have heard it all when it comes to teamwork … how do you explain the scarcity of productive teams in most organizations today?
The author points out that any team is simply a collection of individuals. The challenge for each individual (team member) is to become the kind of person who can and will maximize his or her contribution and push the team forward to fulfill its mission. As usual, Dr. Maxwell teaches by taking a look at what works. He examines the triumphs of winning team players from all walks of life, identifying the character traits that brought success their way. Learn how qualities such as discipline, enthusiasm, communication, preparation, and commitment in individuals can improve a team's effectiveness as a whole.
Be sure to add this book to your library and Maxwell's best-seller list, and you can't go wrong!
(This book review was originally published in 2002 as one of the Top 10 Books – Edition 10.)
Harry K. Jones is a motivational speaker and consultant for AchieveMax®, Inc., a company of professional speakers who provide custom-designed seminars, keynote presentations, and consulting services. Harry's top requested topics include change management, customer service, creativity, employee retention, goal setting, leadership, stress management, teamwork, and time management. For more information on Harry's presentations, please call 800-886-2629 or fill out our contact form.