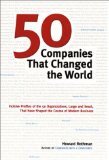 50 Companies That Changed the World

by Howard Rothman
This book is an excellent companion piece for any number of today's current business magazines or newspapers trying to make sense of our current business climate. Over the past 200 years, a number of companies, both large and small, have made a substantial impact on our world and on the way business is done today. Learn how some of the greatest companies of all time achieved their success—found untapped niches, stayed on top of trends, managed progressively and encouraged creativity. You'll also learn how some, nonetheless, fell from their pinnacle when they failed to follow the path that made them successful. Much of the history you'll learn from Rothman's research will certainly help you understand many of today's headlines.
For each of the 50 companies spotlighted in the book, the author presents a lively sketch that describes, in great detail, the company from its founding and initial development through its heyday to the present time. Strengths and weaknesses alike are described at length in the context of each company's individual operation, historical context, and specific industry. Along the way, you will meet individuals with extraordinary vision, courage, and commitment who struggled to realize their ideas and drive these companies to success. Learn about the early development of such vital operational innovations as the assembly line, franchising agreement, brand extension, and temporary employee. If you're a history buff or a student of business, a young uninitiated new employee or an older, more seasoned veteran, you're going to want to add this book to your business and/or personal library.
(This book review was originally published in 2002 as one of the Top 10 Books – Edition 10.)
Harry K. Jones is a motivational speaker and consultant for AchieveMax®, Inc., a company of professional speakers who provide custom-designed seminars, keynote presentations, and consulting services. Harry's top requested topics include change management, customer service, creativity, employee retention, goal setting, leadership, stress management, teamwork, and time management. For more information on Harry's presentations, please call 800-886-2629 or fill out our contact form.