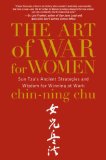 The Art of War for Women: Sun Tzu's Ancient Strategies and Wisdom for Winning at Work

by Chin-Ning Chu
The Art of War is a Chinese military dissertation written by Sun Tzu some 2,500 years ago. It contains 13 chapters, each of which is dedicated to one aspect of warfare. It has long been praised and studied as the definitive work on military strategies of its time. This work has had a large influence on both Eastern and Western military thinking, business tactics, and beyond. In fact, for years now, I've seen books using this approach to many non-military areas such as The Art of War for Gardeners, The Art of War for Golfers, The Art of War for Marketers and the list goes on. Obviously, many authors have seen this title as a marketing tool to attract the attention of readers who have seen it on the book shelves for years.
This classic was first translated into a European language in 1782 and has been said to have possibly influenced Napoleon, General Douglas McArthur and even the planning of Operation Desert Storm.
In recent years, much emphasis has been placed on applying the Art of War philosophy to business and managerial strategies. This is what I find so very interesting about this trend. Today's media talks much of the radical change we have experienced in recent years, and they warn us to expect more of the same in the future. To an extent that's very true.
On the other hand, consider the things that remain the same after centuries of growth, education, progress, and technology enhancements. I find it fascinating that the problems that Sun Tzu wrote about 2,500 years ago are identical to those we face today! The solutions, to a great extent, are also the same. As you examine the 13 chapters, it's very easy to feel as though you're browsing a list of challenges which exist in today's workplace. In short, we are reminded that there is nothing new under the sun. Our pressing issues today were just as important 2,500 years ago—the common and critical factor in this equation is PEOPLE. Addressing this factor has contributed much to the success of this philosophy.
Until now, Sun Tzu's strategies have been focused on tactics for men facing great battles in a male-dominated world … as well it should have. However, in recent years, women have stepped up dramatically to gain center stage in many sectors of our culture. Note the fact that the U.S. is currently contemplating the election of our first female President. We're in the midst of a revolution where woman are educated, can vote, and have full and equal rights alongside men … and women are capitalizing on this revolution more and more every day.
Author Chin-Ning Chu, an accomplished female Chinese business strategist, author, and internationally renowned speaker is a descendant of the pauper (Chu uan-Zhang) who became the first emperor of the Ming Dynasty by defeating the descendant of Genghis Khan. She is the President of Asian Marketing Consultants, Inc., chairperson of the Strategic Learning Institute, and President of Neuroscience Industries, Inc. She was also a major contributor to the Great Books series segment on The Art of War, which aired on The Learning Channel. In short, she's more than qualified to speak on this subject!
Chin-Ning Chu has taken on the work of SunTzu in a fresh light. She took the strategies and tactics that had, until now, been fashioned for execution by men and translated them into a game plan that can easily and efficiently be understood and administered by women.
She tells her readers that for perhaps the first time in history, women can no longer attribute the traditional glass ceiling, their upbringing, or the competitive pressures of the world for their success or failure.
She shares a number of examples of women who claimed they were helpless, mistreated, and unfairly turned down for promotions and career advancement. After further investigation it was discovered that these women had actually sabotaged their own chances.
The author uses a nice blend of humor and advice as she converts these ageless strategies to female-friendly applications.
Here's just a peek at some of her chapter content:
Winning by Wearing Glass Slippers or Combat Boots
The Twenty-First Century, the Women's Century
A Womanhood Makeover
Kick Some Butt with your Jimmy Choos: Dealing with Sexual Harassment
Women are from Venus … Mars, the Moon, and Earth
Adopt the Best of Masculine and Feminine Energies
Sun Tzu's The Art of War is the most influential book on strategy ever published, selling tens of millions of copies worldwide in several editions. This brilliant adaptation of the ancient masterpiece shows women how to use that ageless philosophy to win in every aspect of life. It's quite obvious that this book, The Art of War for Women, is certain to become a classic in its own right.
(This book review was originally published in 2008 as one of the Top 10 Books – Edition 18.)
Harry K. Jones is a motivational speaker and consultant for AchieveMax®, Inc., a company of professional speakers who provide custom-designed seminars, keynote presentations, and consulting services. Harry's top requested topics include change management, customer service, creativity, employee retention, goal setting, leadership, stress management, teamwork, and time management. For more information on Harry's presentations, please call 800-886-2629 or fill out our contact form.