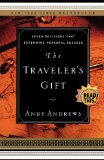 The Traveler's Gift: Seven Decisions that Determine Personal Success

by Andy Andrews
This is the first of two book reviews that deal with the works of a very unique author who deals with an extremely relevant subject.
Today's worldwide environment is tremendously chaotic. Every newscast and/or newspaper presents us with a new challenge to add to a rapidly growing list of controversies we must deal with. Stress levels escalate as we contemplate the task of facing new decisions every day—many of which can be life-changing.
If there was ever a time for positive thinking, this is it. However, none of us wants it shoved down our throats at a time when we have so many negatives to deal with. Enter Andy Andrews. He may have been a bit of a futurist in 2002 when he offered us a very unique blend of fiction, history, allegory, and inspiration in his wildly successful parable, The Traveler's Gift. It's as though he was predicting the chaotic decisions we'd be facing in 2008 while presenting a variety of tools which can be used to make those critical decisions.
Rather than simply providing steps or another typical formula, Andy knows and respects the power of story-telling and therefore utilized that format by combining entertainment and education within the pages of what is destined to become a classic.
If you enjoyed It's A Wonderful Life and A Christmas Carol, you'll want to add The Traveler's Gift to your library of favorites. Author and motivational speaker Andrews effectively combines self-help guidelines with fantasy fiction to catch your interest and sustain momentum while simultaneously passing on excellent information that can change how you view and deal with the world, and ultimately, how the world deals with you.
Many will find it easy, indeed, to identify with the hero of this compelling story, the likable David Ponder. He's facing many of the trials and tribulations that have become commonplace in today's challenging society. David loses his confidence and his drive to survive as events beyond his control deprive him of money and his job … so much like so many of today's citizens facing constant chaos. With a wife and daughter to support, he becomes seriously distraught and contemplates suicide.
David is rendered unconscious after a car accident and experiences an imaginary (or is it real?) journey into seven key points in history that form the bulk of the book. At each stopping point, he is met by historical figures such as Abraham Lincoln, Anne Frank, King Solomon, Harry Truman and Christopher Columbus, each of whom imparts one of the seven key decisions that the author contends are essential for personal success.
We're sometimes so overwhelmed by the volume of decisions we must face that we don't even consider the fact that decisions can be categorized for better clarification and understanding of the choices we face. I'll share those seven critical decisions in greater detail in the following review of  Mastering the Seven Decisions.
After his travel through time, David regains consciousness in a hospital and discovers he is holding letters given to him by the various heroes. The letters offer familiar self-help counsel: accept that the buck stops with you, become a wisdom seeker and a person of action, determine to be happy, open the day with a forgiving spirit, and persist despite all odds.
Although Andrews writes from a Christian perspective, his overall message (trust that God is sovereign but do your part in making your future happen) will ring true with a broad spectrum of inspirational readers. Andrews does an exemplary job at providing positive suggestions for overcoming life's obstacles.
Footnote:
After conversations with a number of friends and associates, I found that few were familiar with this author's previous work even though his talent is known worldwide. Therefore, I feel compelled to share a bit of his background in the hopes that you'll want to learn even more about Andy and his influential offerings. Check out our blog for a captivating bio on this best-selling author as we have added him to our "Meet The Authors" feature.
(This book review was originally published in 2008 as one of the Top 10 Books – Edition 18.)
Harry K. Jones is a motivational speaker and consultant for AchieveMax®, Inc., a company of professional speakers who provide custom-designed seminars, keynote presentations, and consulting services. Harry's top requested topics include change management, customer service, creativity, employee retention, goal setting, leadership, stress management, teamwork, and time management. For more information on Harry's presentations, please call 800-886-2629 or fill out our contact form.