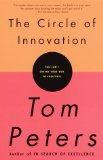 The Circle of Innovation: You Can't Shrink Your Way to Greatness

by Tom Peters
In 1982, Tom Peters introduced himself to the business world by co-authoring one of the most influential management books of all time: In Search of Excellence. Now, through his in-your-face style, bold graphics, astounding facts and figures, and quotes whose sources range from Martha Stewart to Bill Gates, Peters introduces his seventh work, The Circle of Innovation. In this offering, he blows the lid off accepted management styles and opens our eyes to new ways of envisioning the challenges of today's world. 
Whether you manage a six-person department or a 60,000-body behemoth, this book empowers you to transform your organization, your career, and yourself. Inspiring and timely, this blueprint for success is pure Peters—a handbook as energetic as it is profound. Tom provides a practical guide that will teach you how to reverse the rising tide of product and service commoditization and foster uniqueness, capitalize on the skyrocketing purchasing power of women, and convert sluggish staff into vital centers of intellectual capital, creativity, and innovation. 
Tom Peters has become a recognized leading voice in management theory, urging large and small companies to thrive on chaos. This book is certainly a step in that direction.
(This book review was originally published in 2000 as one of the Top 10 Books – Edition 4.)
Harry K. Jones is a motivational speaker and consultant for AchieveMax®, Inc., a company of professional speakers who provide custom-designed seminars, keynote presentations, and consulting services. Harry's top requested topics include change management, customer service, creativity, employee retention, goal setting, leadership, stress management, teamwork, and time management. For more information on Harry's presentations, please call 800-886-2629 or fill out our contact form.