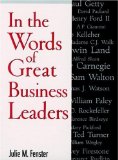 In the Words of Great Business Leaders

by Julie M. Fenster
This book presents the accumulated experience of 19 business legends, in their own words. Each leader provides inspiring and motivating wisdom that runs the gamut from investing to setting priorities to making the most of opportunity. 
This book also features thorough background information on each leader, telling the stories of their struggles to succeed, their triumphs—both good and bad—that formed their business philosophies. 
The 19 legends, are divided into five categories: hustling hard workers, self-made successes, bosses, mavericks, and salesmen. 
Thrive on the wisdom of such legends as:
Thomas Watson (IBM),
Andrew Carnegie (Steel),
Sam Walton (Retail),
John Rockerfeller (Standard Oil),
Henry Ford II (Ford Motor),
J. Paul Getty (Oil),
Mary Pickford (United Artists),
Alfred Sloane (GM),
David Packard (Hewlett-Packard),
Herb Kelleher (Southwest Airlines), and
Ted Turner (Broadcasting) to name just a few.
(This book review was originally published in 2000 as one of the Top 10 Books – Edition 4.)
Harry K. Jones is a motivational speaker and consultant for AchieveMax®, Inc., a company of professional speakers who provide custom-designed seminars, keynote presentations, and consulting services. Harry's top requested topics include change management, customer service, creativity, employee retention, goal setting, leadership, stress management, teamwork, and time management. For more information on Harry's presentations, please call 800-886-2629 or fill out our contact form.