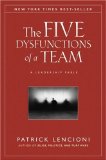 The Five Dysfunctions of a Team: A Leadership Fable

by Patrick Lencioni
As long as I can remember, business leaders have traditionally borrowed from successful sports strategies to run their companies. Many players and coaches, from a variety of popular sports, have written books that ended up in corporate libraries. However, the proverbial "tables" have apparently turned. I just read a very interesting cover story on the front page of the Money section of USA Today. The focus of this two-page feature revolves around the ironic fact that this book is becoming a must-read for NFL head coaches.
The irony is obvious. The Five Dysfunctions of a Team was written for business executives and managers. A football audience was so far from the mind of author Patrick Lencioni that the parable's heroine is a 57-year-old female CEO named Kathryn who talks about such sappy things as fear of conflict.
Apparently a large number of coaches and players in the NFL are learning a thing or two from a business book about winning tactics in the workplace. Author Lencioni says he was stunned to learn that his growing list of fans include: San Francisco 49ers coach Mike Nolan, Oakland Raiders coach Norv Turner, San Diego Chargers coach Marty Schottenheimer, Miami Dolphins rookie coach Nick Saban, Cleveland Browns coach Romeo Crennel, and Cincinnati Bengals coach Marvin Lewis. Several of the coaches even distributed copies to their assistant coaches and players, and Coach Lewis keeps a four-color printout of the book's pyramid on his desk to remind him of the five dysfunctions that can cripple a team.
You might wonder why a business book would be of such great interest in the NFL? When you think about it, it's rather obvious. Head coaches and players are struggling with many of the same challenges that CEOs and employees are forced to contend with in today's competitive and ever-changing environment.
The popularity of The Five Dysfunctions of a Team isn't exclusive to NFL coaches. Teams playing everything from cricket in New Zealand to tennis at Northwestern University have employed its lessons.
Published in 2002, The Five Dysfunctions of a Team never rose to the level of best seller. However, more recently, demand has grown, and over the past two years, it has outsold almost all but a few leadership/management books such as Who Moved My Cheese?, Good to Great, The 7 Habits of Highly Effective People, The 8th Habit and Now, Discover Your Strengths, according to USA Today book sales data.
This is a genuinely significant book for anyone who works in a team environment, whether at work, in sports, in the community, at home, etc. Over the years, there have been hundreds of books written on the subject of building teams. This is one of the best for the simple reason that it gets at the ROOTS of team failure. Anyone who has been forced to go through corporate "team building" sessions, forcing you to sing with your fellow co-workers, tip toe across two-by-fours, or swing on a rope like Tarzan knows that this approach doesn't work! The principles presented in The Five Dysfunctions of a Team are solid and will get results.
These are the five team dysfunctions that Lencioni uses in his leadership fable:
Absence of trust
Fear of conflict
Lack of commitment
Avoidance of accountability
Inattention to detail
This book will be a great asset to team members and leaders alike. You will see yourself and your team in this book. More than that, you will find specific steps you can take to make your team better. Through a real-life fable, the author leads you through the steps you need to take to move a team from dysfunction to health. You will find a clear model as well as examples that are as relevant as your last meeting.
The majority of the book deals with a fictional CEO and her efforts to unite a dysfunctional team that is in such disarray that it threatens to destroy the entire company. Throughout the story, the author reveals the five dysfunctions that go to the very heart of why teams, even the very best, often struggle. He outlines a powerful model and actionable steps that can be used to overcome these common hurdles to build a cohesive, effective team.
In the last few pages of the book, the author describes each dysfunction in detail, followed by suggestions to overcome that dysfunction. The Five Dysfunctions of a Team gives a simple message that inspires, energizes, and creates a vision of hope for how thing could be in a team. Coaches agree that there is a lot that goes into a winning team, and no book will ever play more than a tiny role. But in the NFL, as in business, a slight edge can make the difference.
(This book review was originally published in 2005 as one of the Top 10 Books – Edition 13.)
Harry K. Jones is a motivational speaker and consultant for AchieveMax®, Inc., a company of professional speakers who provide custom-designed seminars, keynote presentations, and consulting services. Harry's top requested topics include change management, customer service, creativity, employee retention, goal setting, leadership, stress management, teamwork, and time management. For more information on Harry's presentations, please call 800-886-2629 or fill out our contact form.