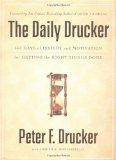 The Daily Drucker: 366 Days of Insight and Motivation for Getting the Right Things Done

by Peter F. Drucker with Joseph A. Maciariello
If you know of Peter Drucker, the 95-year-old Austrian-born author and analyst who left behind a body of work that laid the foundation for modern management science, you'll want this book. If you know little or nothing of this man who was often called "the world's most influential business guru" and top management thinker in the world, you need this book.
Peter Drucker died in November of this year (2005). He is the American Business Philosopher—a guru and teacher who writes about the business of business in a fundamental and memorable way. He has written more than three dozen books, translated into 30 languages, over a period of 66 years. In addition, he has written countless articles for newspapers and magazines world-wide. Millions of people read those books and articles. Millions more, even if they never read Drucker, knew his concepts and catch-phrases: "management by objective," "knowledge worker," "empowered employee," "privatization," "decentralization," "creative abandonment," and the list goes on and on.
His thinking transformed corporate management in the latter half of the 20th century and his work influenced Winston Churchill, Bill Gates, Jack Welch and the entire Japanese business establishment.
I was always personally impacted by the fact that, until the day he died, Peter Drucker referred to himself as a student rather than a teacher. He expressed gratitude each day for what he learned from others. We'd be much better off if only today's high school and college students would adapt that life-long philosophy.
This hardbound book is an anthology of 366 brief excerpts from Drucker's 36 books and countless articles. Drucker himself explains that "the most important part of this book is the blank spaces at the bottom of its pages. They are what the readers will contribute, their actions, decisions and the results of these decisions. For this is an action book." The reader is also provided with an extensively annotated bibliography and a comprehensive list of "Readings by Topic."
Oddly enough, this book actually resembles a bible and even has a ribbon to mark your page. For so many business leaders, Drucker was a business guru akin to a spiritual guru. His insights are profound, logical, and prophetic. Indeed, his words were a guidebook to those he inspired. This is a book that can fit on anyone's desk for a quick dose of inspiration.
No other business thinker has been more influential than Peter Drucker. Every page should be read, meditated, and implemented. It should be read everyday. The content is far from being technical. A business education or background certainly isn't required to understand or enjoy it. The book is a joy to read for those who seek business knowledge in its highest form. If you are going to buy only one Drucker book, then buy this one as it contains his best collections. Future generations will continue to benefit from his intellectual journey in the coming 1,000 years. This fine collection of "Druckerisms" would make a fine gift for anyone. Its content will be as relevant in a century as it is today.
His longtime friend and colleague, professor Joseph A. Maciariello, assisted with the selection and organization of the material. Here are just a few of the excerpts:
To make hierarchies less appealing to executives, he suggested, just limit executive pay. No executives, Drucker wrote in 1982, should be making more than twenty times the pay of their workers.
Smart enterprises, he preached, don't order their employees around. They value their employees, encourage their contributions, and tap their wisdom at every opportunity.
Dumb enterprises, by contrast, create obstacles to information sharing. They layer bureaucracy upon workers and smother their imagination. They shield executives from real-world knowledge.
Central to his philosophy was the belief that highly skilled people are an organization's most valuable resource and that a manager's job is to prepare and free people to perform.
In the early 1950s, when other business leaders figured the worldwide market for computers was in the single digits, he predicted that computer technology would thoroughly transform business. It has indeed done just that.
In 1961, he alerted his followers to the rise of Japan as an industrial power, and two decades later, he warned of its impending economic stagnation.
In 1997, he predicted a backlash to burgeoning executive pay, saying, "In the next economic downturn, there will be an outbreak of bitterness and contempt for the super-corporate chieftains who pay themselves millions."
Quotation: "If we didn't spend four hours on placing a man and placing him right, we'd spend four hundred hours on cleaning up after our mistake." (Alfred Sloan).
"In cost control an ounce of prevention is worth a pound of cure."
"The right answer to the wrong problem is very difficult to fix."
"People's decisions are the ultimate—perhaps the only—control of an organization. People determine the performance capacity of an organization. No organization can do better than the people it has."
"Every organization needs one core competence: innovation."
"Effective executives build on strengths—theirs and others. They do not build on weaknesses. "
"The one person to distrust is the one who never makes a mistake … Either he is a phony, or he stays with the safe, the tried, and the trivial. The better a person is, the more mistakes he will make …"
(This book review was originally published in 2005 as one of the Top 10 Books – Edition 13.)
Harry K. Jones is a motivational speaker and consultant for AchieveMax®, Inc., a company of professional speakers who provide custom-designed seminars, keynote presentations, and consulting services. Harry's top requested topics include change management, customer service, creativity, employee retention, goal setting, leadership, stress management, teamwork, and time management. For more information on Harry's presentations, please call 800-886-2629 or fill out our contact form.