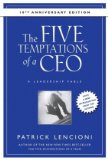 The Five Temptations of a CEO: A Leadership Fable

by Patrick Lencioni
In this stunning business fiction debut, the author delivers a powerful wake-up call to all of us who dare to lead. This book provides extraordinary insight into the pitfalls that leaders face when they lose sight of the true measure of success—results. Told in the form of a wise and enthralling leadership fable, Patrick Lencioni delivers a provocative message: CEOs mainly have themselves to blame when things go wrong. If you're a CEO (or a leader at any level for that matter), do you have the courage to face the blame? Doing so could change your future—for the better. This model should be required reading for your entire leadership team!
(This book review was originally published in 1999 as one of the Top 10 Books – Edition 1.)
Harry K. Jones is a motivational speaker and consultant for AchieveMax®, Inc., a company of professional speakers who provide custom-designed seminars, keynote presentations, and consulting services. Harry's top requested topics include change management, customer service, creativity, employee retention, goal setting, leadership, stress management, teamwork, and time management. For more information on Harry's presentations, please call 800-886-2629 or fill out our contact form.