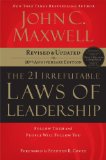 The 21 Irrefutable Laws of Leadership: Follow Them and People Will Follow You

by John C. Maxwell
What would happen if a top expert with more than 30 years of leadership experience were willing to distill everything he had learned about leadership into a handful of life-changing principles just for you? It could change your life. John C. Maxwell has done exactly that in this profound, revealing study. He has combined insights from years of leadership successes and mistakes with observations from the worlds of business, politics, sports, religion, and military conflict.
This book is a powerful, definitive statement of the timeless laws you simply must follow if you want to be a great leader—at home, on the job, in church, or wherever you are called on to lead.
If you are new to leadership, this book will jump-start your leadership career. If you are an experienced leader with blue-chip credentials, this book will make you an even better leader.
(This book review was originally published in 1999 as one of the Top 10 Books – Edition 1.)
Harry K. Jones is a motivational speaker and consultant for AchieveMax®, Inc., a company of professional speakers who provide custom-designed seminars, keynote presentations, and consulting services. Harry's top requested topics include change management, customer service, creativity, employee retention, goal setting, leadership, stress management, teamwork, and time management. For more information on Harry's presentations, please call 800-886-2629 or fill out our contact form.