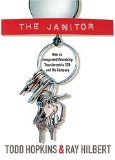 The Janitor: How an Unexpected Friendship Transformed a CEO and His Company

by Todd Hopkins and Ray Hilbert
It somewhat stands to reason that if you're in search of effective business strategies and insights, you're not going to find it in a book with the word "janitor" in the title, right? Ah, but we all know better than that by now, don't we? Over the decades I've learned some of life's best lessons in places and from people I would never have expected to find such wisdom. Such it is with this 160-page parable by two unlikely co-authors, who may very well have a motivational classic on their hands.
I've had the opportunity to meet a good number of CEOs who would easily identify with the CEO we meet in The Janitor. His business is out of control, his marriage obviously suffers as a result, he seldom gets to see his children, his clients are difficult to say the least, he's working ridiculous hours putting out fires, and he's not coping well with the many changes he must deal with while under increasing stress.
While working late as he so often does, CEO Roger Kimbrough has a chance encounter with an elderly janitor one evening. Roger spills his guts to janitor Bob Tidwell, a retired businessman, and the kind janitor promises to provide guidance that will turn the CEO's business and personal life around.
The janitor's counsel is based upon six basic principles, which are easy to overlook based on their simplicity alone. This fable follows not only their weekly meetings at Roger's office but also the application and challenge of each principle in the process.
I'll let you discover the principles on your own, but I can assure you that this narrative will hold your attention and provide you with well-defined, easy-to-remember steps to improving your life regardless of your career and personal challenges. If you find yourself experiencing any of the conditions mentioned earlier in your business or family life, check out this inspiring and compelling story of six keys that can and will lead to life-changing success.
(This book review was originally published in 2008 as one of the Top 10 Books – Edition 17.)
Harry K. Jones is a motivational speaker and consultant for AchieveMax®, Inc., a company of professional speakers who provide custom-designed seminars, keynote presentations, and consulting services. Harry's top requested topics include change management, customer service, creativity, employee retention, goal setting, leadership, stress management, teamwork, and time management. For more information on Harry's presentations, please call 800-886-2629 or fill out our contact form.