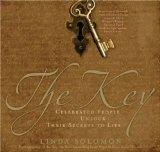 The Key: Celebrated People Unlock Their Secrets to Life

by Linda Solomon
The vast majority of the books I choose to review deal with some aspect of the business world for the most obvious of reasons. However, from time to time, I like to share a book I think you might find useful or simply enjoyable in the hopes that diverting your focus can certainly serve as an asset in refreshing your mind and spirit. Therefore, when you return to your business challenges, you're actually more productive than ever.
This is one of those books you don't necessarily have to read page by page or chapter to chapter. You can find comfort in knowing you can open the book to most any page, read as much or little as you like, and discover substance that provides a "recess" for your senses. After even a brief sampling of this invigorating content, you can return to your work refreshed, relaxed and satisfied that your time and energy was well spent.
The author, Linda Solomon, is an award-winning photo-journalist and the photographer whose unique work has been featured on Good Morning America, World News Tonight, NBC Nightly News and The Today Show, as well as in galleries around the country. She's also the photographer of The New York Times best-selling book People We Know, Horses They Love. Don't panic if you're not into horses. This woman focuses her talents in a variety of areas and, in this piece, she focuses on two aspects of keys.
To begin, she searched the entire country to unearth a rare collection of vintage keys, nowadays considered among the most collectible of antiques. Each key protected a precious belonging … a private estate, a family's first car, an antique clock, a treasure chest, an heirloom locket, a secret hiding place, etc. In her strange pursuit, Solomon discovered that the keys we treasure the most are actually those that bring us peace of mind.
In this interesting book, the author marries beautiful black and white photographs of intricate, antique keys with words of wisdom from some of the world's best-known entertainers, politicians, athletes, CEOs and other luminaries. Each dignitary is allotted two pages … the first is a distinguishing full-page close-up photo of a unique key, which lends credence to the words of wisdom shared on the adjoining page. Linda has always believed photography teaches us to not just look, but really see. The words engraved on keys communicate certain qualities. The key is a metaphor and, if matched with the right person, each key has a soul. It is the author's hope that the photographs of each key will provide a different way to see the real person by opening our eyes to their words.
You'll find more than fifty celebrities, some of whom rarely grant interviews, offering insights that have made a lasting impact on their lives. Among those you'll discover are:
The Key to Winning by Tiger Woods
The Key to a Timeless Look by Christie Brinkley
The Key to a Lasting Career by Tony Bennett
The Key to Respect by Aretha Franklin
The Key to Character by Sidney Poitier
The Key to Being the Perfect Apprentice by Donald Trump
The Key to Being Cool by Samuel L. Jackson
The Key to Making Music by Burt Bacharach
The Key to Laughter by Tim Allen
The Key to Courage by Peggy Fleming
The Key to Getting a Great Score by Arnold Palmer
These celebrities also share another quality—compassion—since their words will benefit the continuous research to cure breast cancer. This perfect little gift book also includes enlightening entries from famous women who have fought breast cancer and survived. Proceeds from The Key will be contributed to breast cancer research.
The Key will certainly be an excellent addition to any collection of coffee table selections.
(This book review was originally published in 2008 as one of the Top 10 Books – Edition 17.)
Harry K. Jones is a motivational speaker and consultant for AchieveMax®, Inc., a company of professional speakers who provide custom-designed seminars, keynote presentations, and consulting services. Harry's top requested topics include change management, customer service, creativity, employee retention, goal setting, leadership, stress management, teamwork, and time management. For more information on Harry's presentations, please call 800-886-2629 or fill out our contact form.