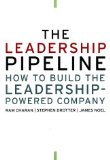 The Leadership Pipeline: How to Build the Leadership Powered Company

by Ram Charan, Steve Drotter, and Jim Noel
As a consultant, I have the opportunity to work closely with a wide variety of organizations across a great number of industries. I'm constantly amazed at the lack of focus, time and energy dedicated to developing tomorrow's leaders from today's current staff. Every time a leadership slot avails itself, it seems as though there is no one "ready" or qualified to fill it. I hear a variety of excuses such as current workload, unexpected chaos, and simply "no time." When I hear excuses like these, I have to wonder if this particular organization will ever reach the level of developing their own internal pipeline of leadership talent.
One of management's biggest challenges today is finding new leaders, and one of the questions that arises in this quest is whether to bring in "new blood" and fresh ideas or take advantage of "home-grown" experts already acclimated to an organization's corporate culture. At a time when more and more companies are relying on headhunters to bring in leaders and management turnover is soaring among young talent, "growing your own" leaders is about to become a necessary core competence for the future. The current labor shortage and a greater willingness by younger workers to change jobs have only added to this challenge.
Written by three genuine experts in management development (one of them helped design GE's deservedly famous succession-development process), this book finally shows organizations how to undo the knots and clogs in their in-house "leadership pipeline" so they can constantly groom the best people at every level to move up to the next rung of leadership.
Not only do the authors identify the six transition phases, or "turns," of the pipeline—they describe each with remarkable insight; these six levels of leadership growth, for example, exist at the base of every mid-size or large organization regardless of how each structures its individual hierarchy.
The six key transitions that help a leader develop are:
from managing yourself to managing others;
from managing others to managing managers;
from managing managers to functional managing;
from functional managing to business managing;
from business managing to group managing;
from group managing to enterprise managing.
The author then shows you how to diagnose how individual leaders are doing, and how to help them make better progress.
At each transition, what the individual values and focuses on has to change dramatically. In organizations where this transition is not made explicit, you get almost all of the managers in the organization "stuck" doing things the wrong way, still looking from the perspective of their last job. That's the stuff that Dilbert and the Peter Principle are made of. Although the book takes a large organization's point of view, in various places the points are translated into a small organizational context.
With each, they take care to point out both the new skills and values (there is a difference) one must acquire before making a turn, as well as how to measure whether someone has them before moving them along. They also show how to determine whether candidates are embodying those skills and values once they've made the transition, and how to groom them for the next level right from day one. The result? Not just one potentially qualified in-house candidate for a top leadership position but a whole generation of them, not to mention younger generations to succeed them. The book includes sample scenarios (from both fictional and real-life organizations), definitions, checklists and charts that break down and illustrate its main points in every chapter.
(This book review was originally published in 2001 as one of the Top 10 Books – Edition 9.)
Harry K. Jones is a motivational speaker and consultant for AchieveMax®, Inc., a company of professional speakers who provide custom-designed seminars, keynote presentations, and consulting services. Harry's top requested topics include change management, customer service, creativity, employee retention, goal setting, leadership, stress management, teamwork, and time management. For more information on Harry's presentations, please call 800-886-2629 or fill out our contact form.