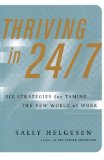 Thriving In 24/7: Six Strategies for Taming the New World of Work

by Sally Helgesen
In this new book, Sally Helgesen warns that too many people are being forced to choose between "having it all" and "having a life." She has done a remarkable job of illuminating the ways the workplace has infringed upon our lives. She uses the pop-speak phrase 24/7 to symbolize the transformation of our sense of time through technology and the blurring of boundaries between work and home. The author details changes including the shift from an industrial economy to a "knowledge economy"; the technology that has spawned a sleepless business culture; the leaner organizations with longer job descriptions; and the domestic drama of over-scheduled children and over-managed health care and finances.
Far from making life and work easier, new technologies are imposing demands on us that we do not know how to say no to. Borrowing a military acronym, Helgesen also describes the new world of work with an acronym, VUCA (Volatility, Uncertainty, Complexity, and Ambiguity), named for the factors that have developed with the advent of technological breakthroughs. In addition to the new technologies, other current complexities include increased globalization, increased pressure to work long hours, breakdown of traditional barriers between work and home, and the increased work involved in maintaining personal lives and leisure time.
Helgesen doesn't simply describe the challenges to our public and private lives. She has determined that there is no "one-size-fits-all answer" so she offers six smart strategies we can adopt in order to improvise individual responses. She urges us to "start at the core, learn to zigzag, create our own work, weave a strong web of inclusion, build a clear brand, and practice the rhythm of renewal." Her artful balance of observations and suggestions create an insightful and practical guide for pursuing what she calls "elegance and simplicity in all our decisions and taking advantage—or resisting—what technology has wrought."
(This book review was originally published in 2001 as one of the Top 10 Books – Edition 9.)
Harry K. Jones is a motivational speaker and consultant for AchieveMax®, Inc., a company of professional speakers who provide custom-designed seminars, keynote presentations, and consulting services. Harry's top requested topics include change management, customer service, creativity, employee retention, goal setting, leadership, stress management, teamwork, and time management. For more information on Harry's presentations, please call 800-886-2629 or fill out our contact form.