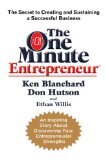 The One Minute Entrepreneur: The Secret to Creating and Sustaining a Successful Business

by Ken Blanchard, Don Hutson, and Ethan Willis
We just added a new feature to our blog spotlighting distinguished authors. The first author I chose to introduce was Ken Blanchard. Before the ink was dry on that article, Blanchard placed another title on national bookstore shelves which is sure to be another best-seller.
This time he joins Don Hutson and Ethan Willis to produce another quick-read business fable mixing practicality with entertainment. If you really need three creative minds to produce such a thin book, you can't go wrong with these three.
Blanchard is an internationally best-selling author and motivational speaker whose books have sold more than 18 million copies in 30 languages. Hutson is the CEO of U.S. Learning, a training firm, an active speaker, and was on the founding board of the National Speakers Association and served as its third president. Willis is the CEO of Prosper Learning, Inc., a winner of Ernst & Young's Entrepreneur of the Year award and an entrepreneurial coach, with more than 150,000 students in 76 countries.
Those who have read any number of the One Minute series seem to fall into one of two distinct groups. They devour, absorb and utilize every word from cover to cover, or they feel the content is basic, obvious and redundant. Both groups will feel the same about this new addition to the series.
Here the authors share the inspiring story of one man's challenges in creating his own business. The hero of this tale has a dream and learns early on that the best source of information about success is given to us through quality relationships, which is so true in our daily reality. Jud and his wife Terri start their dream business and feel that all their dreams have come true. Then everything begins to fall apart, and they must rely on what they hope is good advice from a number of helpful mentors. The learning, of course, lies in this on-the-mark advice and our charming couple finally achieves success beyond their wildest dreams.
You'll appreciate the invaluable advice delivered through One Minute Insights at the end of each chapter from such proven mentors as Sheldon Bowles, Peter Drucker, Michael Gerber, and Charlie "Tremendous" Jones. One observation that stuck with me was: "You are the average of the five people you most associate with." Look around and then pause to ponder that thought.
While the message is not a new one, it's certainly one worth hearing again in a business-fable format that makes these winning principles come to life. Based on the fact that each year thousands of small businesses start up for the first time and most of them end in failure, I think it's safe to assume that many didn't listen the first time or simply were never exposed to these principles. For those, this book will be invaluable.
If you are looking for a quick and powerful set of standards for your career and your business, you'll find it here, written in such a way that both adults and teens will benefit greatly.
(This book review was originally published in 2008 as one of the Top 10 Books – Edition 18.)
Harry K. Jones is a motivational speaker and consultant for AchieveMax®, Inc., a company of professional speakers who provide custom-designed seminars, keynote presentations, and consulting services. Harry's top requested topics include change management, customer service, creativity, employee retention, goal setting, leadership, stress management, teamwork, and time management. For more information on Harry's presentations, please call 800-886-2629 or fill out our contact form.