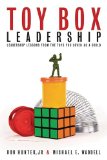 Toy Box Leadership: Leadership Lessons from the Toys You Loved as a Child

by Ron Hunter, Jr. and Michael E. Waddell
I first came across this book several months ago during a flight delay in the Atlanta airport. I was so impressed with the content that I wrote an article for our blog. It wasn't a book review—it was more focused on the lesson it taught me as I almost passed up this most enjoyable book by making an inaccurate assumption based on the title.
While the article was NOT a book review, it did contain a great deal of background material which I feel you'd find enlightening about both the content and the authors. Click on Toys as Mentors to view that article.
If you could revisit your childhood, you would discover that you were exposed to many leadership principles while playing with your favorite toys. You may not have realized it at the time, but the co-authors of Toy Box Leadership will assist you in recapturing those principles in ten short but delightful chapters.
Each chapter is devoted to a particular childhood toy we all loved and enjoyed as we were growing up. The subtitle of each chapter then identifies the leadership trait that is so clearly represented by each toy. For instance:
Lego Bricks: Relationships—Building Begins with Connecting
Slinky Dog: Vision—Pull—Then Be Patient
Play-Doh: Mentoring—The Mold Makes the Man
Yo-Yo: Creativity—It Only Happens When You Let Go
Mr. Potato Head: Mentoring—The Right Face for the Right Place
Rubik's Cube: Ethics—Making the Right Turn
Rocking Horse: Efficiency—All Show and No Go
Little Green Army Men: Strategy—Success Is in the Set-Up
Lite-Brite: Message—Illuminate to Communicate
Weebles: Endurance—Staying Down Is Not an Option
In support of these solid principles, this book also offers some very uplifting quotes from 55 of the greatest names in history. These notables include great leaders from the world of sports, politics (including Presidents), music, entertainment, military, literature, and religion.
Between the blog article and this review, I've probably given away too much content. You'll want to read every page of this book. Let me close by saying this: Toy Box Leadership can be read and discussed productively by any senior leadership team in any industry. At the same time, there is much to be learned by sharing its content with your own children or grandchildren.
Read, learn, smile, enjoy, and share.
(This book review was originally published in 2009 as one of the Top 10 Books – Edition 19.)
Harry K. Jones is a motivational speaker and consultant for AchieveMax®, Inc., a company of professional speakers who provide custom-designed seminars, keynote presentations, and consulting services. Harry's top requested topics include change management, customer service, creativity, employee retention, goal setting, leadership, stress management, teamwork, and time management. For more information on Harry's presentations, please call 800-886-2629 or fill out our contact form.