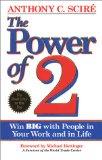 The Power of 2: Win Big with People in Your Work and in Life

by Anthony C. Scire
Here is another in a growing number of "mini-books," 170 pages in this case, which seem to be taking over book store shelves from coast to coast. What's interesting about this trend lies in the fact that some of the shorter books pack more power in the way of useful information than many of the 500-page monsters we so often see. This is obviously the case in Anthony C. Scire's The Power of 2.
The subject matter of this particular book falls into another category for me. The content revolves around networking and human relationships which is critical in assisting anyone in their effort to excel in all areas of work and life. Therefore, wouldn't it make sense to expose our younger generations to such valuable resources at a very early age? I'd like to see the concepts in this book shared with students as young as middle-school age. I'm certain it would impact their high school, college and early work life in a very positive way. Networking is one of the many areas we share with our audiences ranging in ages from 12 to 25, and this book, written in the tradition of Dale Carnegie's classic, How to Win Friends and Influence People, cuts to the core of what it takes to win BIG with people. It is an easy-to-read, powerful approach to starting and building relationships and solving people problems.
Don't misunderstand me. This is far from a children's book. I'm simply convinced it contains a very important message for all ages. I've worked with a large number of front-line employees, middle-managers, CEOs, and board members who would benefit greatly from the proven methods and skills shared within these pages. The Golden Rule of networking is simply this: All things being equal, people will do business with and refer business to those people they know, like, and trust. That's it. That's what it's all about and Anthony C. Scire presents timeless principles for building productive, enduring relationships—key ingredients to success and happiness. Tony shares pertinent anecdotes and penetrating insights from his wealth of experiences. He teaches you how to meet more people, build finer relationships, and better nurture the ones you already have. The Power of 2 gives you the edge in getting results by sharing these wonderful gifts:
How to create verbal magic and become a people magnet.
The secrets of expanding your sphere of influence by using The Power of 2 business card technique.
How to build the sincere, long-lasting, loyal, productive friendships of peak performers.
How to turn more contacts into contracts.
Creative approaches to overcoming the relationships challenges of communicating electronically.
How to create an automatic can-do spirit to eliminate procrastination and stagnation.
The Ten Commandments of High-Touch Relationship Building.
How to receive gratitude in the form of referrals, new business, and greater cooperation.
Don't expect a theory book or a "quick fix." You won't find it here. This is a philosophy which will transform every area of your work and life. You'll learn why it's essential to care about others and build relationships. It's the best way to make a difference, reach worthwhile dreams and goals, and have truly rich life experiences. The Power of 2 is a thoroughly practical and even inspired resource especially suited to the paradoxically globalized yet socially isolated world of today. This one belongs on your bookshelf.
(This book review was originally published in 2002 as one of the Top 10 Books – Edition 11.)
Harry K. Jones is a motivational speaker and consultant for AchieveMax®, Inc., a company of professional speakers who provide custom-designed seminars, keynote presentations, and consulting services. Harry's top requested topics include change management, customer service, creativity, employee retention, goal setting, leadership, stress management, teamwork, and time management. For more information on Harry's presentations, please call 800-886-2629 or fill out our contact form.